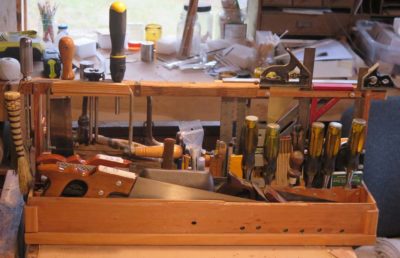 Just for jollies I took all the tools out of the tote and inventoried them, which I share with you now.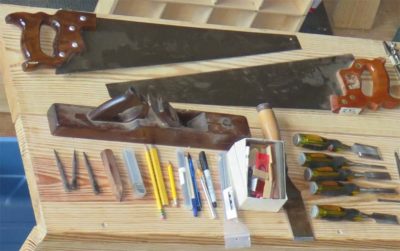 I have probably almost two dozen vintage hand saws, but the ones I included in this kit are selected in part due to the fact that they fit into the box.  One of these is an 8 t.p.i. crosscut saw, the other a 4-1/2 t.p.i. rip saw.  Just below them is a 14″ solid Brazilian rosewood razee shipwright's plane, it is a fussy tool to get right but once it's there, boy howdy!  I include this rather than a #5 because it is a bit lighter in weight.
Working across the bottom of the picture,left to right, we begin with three nail sets.  This is almost certainly overkill but they do not take up a lot of space.  The next thing in line is a home-made line transfer scribe that is one of my favorite tools.  I will blog about making one for yourself soon.  No marking knife is better at the task of tracing and transferring lines from one piece to an adjacent piece.
Moving to the right I've got a package of utility knife blades, a collection of pencils including a #1, #2 (mechanical), carpenter's, a #3, some coping saw blades (obviously I did not tage the photography quite right), and ball-point and Sharpie pens.  Next comes a box with a variety of items including a small diamond stone, my small oil stones, my home-made dovetail gauge, a bullseye level, and probably some other items I cannot recall just now.
Rounding out this image are my 2″ framing chisel and a set of Stanley chisels; I bought the Stanley's from Lowes for a demolition job many years ago and found them to be of such superior quality that I rehabbed them after that project and now use them dialy.  I found them to somly be the best value in chisels there is.
Moving on to image #2 across the top from the left is a large set of auger bits for the brace, an expansion bit, the brace itself, a vintage rosewood-handled 6-incher, with a set of twist drills for it.  Continuing the rightward-ish flow there are my Roubo winding sticks-on-stilts, which have changed fundamentally the techniques I use for flattening stock (the sticks for these serve as straight edges whenever I need them), and my pair of DMT combination stones, one 220/325 and the other 600/1200.  Just below them is a vintage spokeshave and one of the Turkey Wing whisk brooms that I sell..
Going back to the bottom left I have a pair of 10-inch dividers, a small level, a folding carpenter's rule, the coping saw inside of which are the utility knife, a 24-inch four-fold furniture maker's ruler, and a rosewood handles awl.  Adjacent to that is my smaller Japanese bevel square and my Knew Concepts webbed frame saw.  This was pretty much overkill and really superfluous for the kit so I will almost certainly leave that one hanging on the joint over my main bench in the shop.  
Rounding out this grouping is a 12-inch speed square and a 4-in-1 rasp, old enough to be from the time when they still made good ones.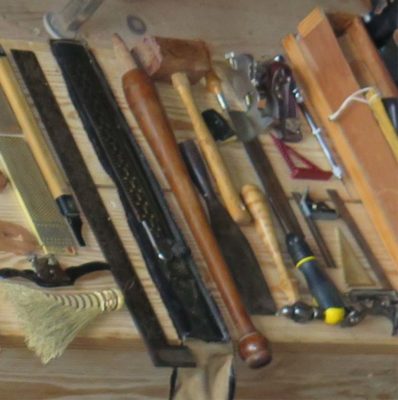 The final vignette from this little account begins with a Japanese saw handle which accommodates three interchangeable blades, which I must have left in the tote during picture time.  Then I have a superb ancient take-down framing square, complete with its original sleeve, followed by my 3-inch hand forged slick, a $5 from a tailgate sale.  I made a new black walnut handle to replace the piece of junk that had been appended to it.
Next to that is my beloved home made tulipwood mallet that has pounded innumerable joints and assemblies over the years, a 12-foot tape measure, my treasured dovetail saw that I've had for almost fifty years and has not needed sharpening for almost 30.  The upper right corner is populated by a small Record rebate plane, a Stanley block plane, a Yankee drill and one of my newer tools, The Delve Square designed for Woodpecker's by my friend Tom DelVecchio.
The bottom right corner has my Starrett 12-inch and 6-inch combination squares, my newest tool the 30-60-90 square, a combination screwdriver, and my equally treasured curly maple handled ball pein hammer, a gift from my log time pal MikeM.
That pretty much wraps it up.  I am pretty sure I will add a Shinto rasp along with some additional files soon