I first met Webmeister Tim during my research for the H.O. Studley tool cabinet book, probably around 2012 or 2013.  I got an email from a fellow who said, "Hey, I think I've got a vise like the ones you are talking about."  I arranged to meet him in person at a diner in southern Maine and sure enough, he had a vise much like the ones about which I had been waxing ecstatic.  Tim was a wood turner but not yet a full-spectrum woodworker, so he allowed me to borrow his vise to study, and eventually, to display in the 2015 exhibit that coincided with Handworks 2015.  Of all the piano-lakers' vises I've seen his is the closest to Studley's.
Our agreement was that he would come and get it, "Whenever."
Well, after more than a decade of long-distance friendship, including dozens of phone calls relating to the business of the donsbarn.com website, which he now steers, "Whenever" finally occurred last month.  Finally aligning the stars of our respective lives, he was able to come to Shangri-la and spend a week with us in the Virginia hinterlands.  It was truly a great time of fellowship and productive work together.
Our focus for the week was to build him a heritage workbench that would last the rest of his life and probably any eventual grandchildren and great-grandchildren as well.  The raw material for the bench was my slabbed black walnut, the style of the bench a split-top Roubo.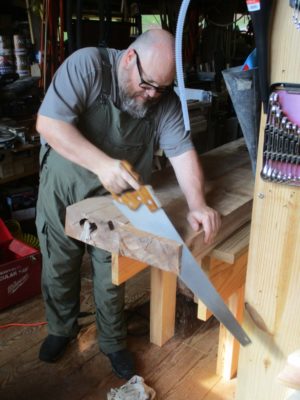 I worked him really hard during the week, beginning with hand sawing the almost 5″ thick slabs to length.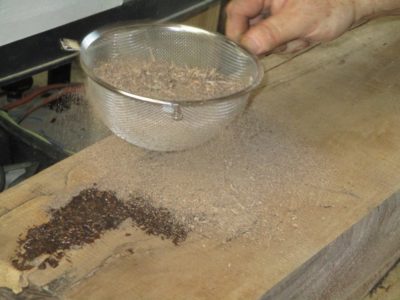 There were a couple of regions of the slabs needing attention, so we saturated them with diluted West System epoxy and walnut sawdust, followed by a top sprinkling of sawdust on top to provide a good surface for final finishing when it got to that point.
I did not have slab stock for the legs and stretchers, so we had to laminate them from black walnut cut from the same tree and some vintage stock I had in my lumber barn.  For the newer stock we ran them through my little Ryobi 10″ planer that has been serving me well for about 35 years.
For the vintage stock from my barn, they had been planed eons ago so all they needed was a quick scrubbing with a wire brush to remove any debris and freshen up the surfaces for gluing.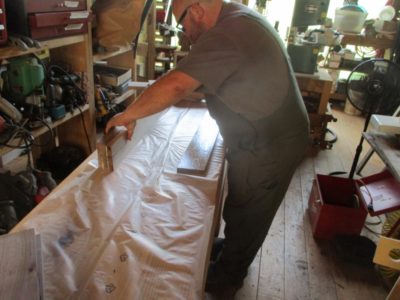 Then glued-up they were with T3 to accommodate any situation the bench might find itself in the future.
Thus endeth Day One of the Great Webmeister Tim Bench Build.