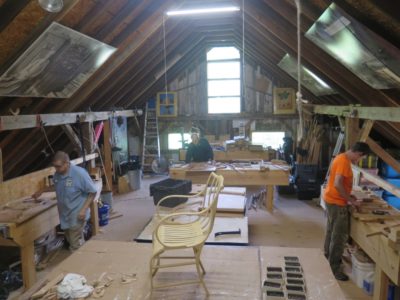 Bright-eyed and bushy tailed everyone hit the ground running Monday morning, assembling the two side units that are the starting point for the chairs.  I made an assembly jig for each person to use as I do not know how to actually build a functioning and symmetrical chair any other way.  Although our records of Gragg's working methods are scarce, I would pretty much bet the house that he built his chars in a similar manner.
The first steps in assembling the chair out of its multitude of parts were fitting the serpentine, curved arm, and rear leg together, requiring only some trimming with a saw and a rasp, and screwing the parts together.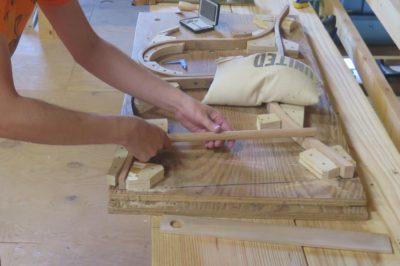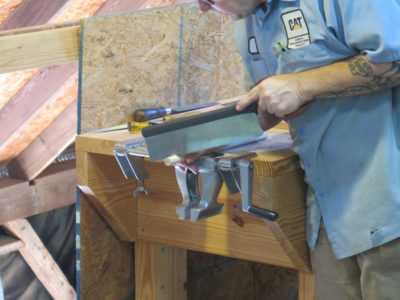 After that comes the first of many fussy stages, although not to the points of exasperation that were awaiting everyone in the days to come.  This one involved laying out and cutting the stiletto tenons and their companion mortises for the side rungs.  It was one of my improvements over Gragg's original techniques as this was a much stronger and more robust joint than his full-sized drilled hole through the legs, many/most of which have fractured over the centuries.
Just to make sure it remains that way the joint is glued and pinned with a small brad, a construct I have found to perform superbly.
One final but not insignificant issue for the day and week was the heat.  When I first contemplated this event eighteen months ago I thought the final full week of August would be a nice fit.  Normally here in the mountains the last week of August is more likely to be the first week of autumn with chilly nights and mild days rather than the last week of summer.  This was a central consideration given that the only place big enough for the workshop was the fourth floor, immediately underneath the asphalt-paneled roof.  We've even had frost this week in years past, but not this time.  It was the hottest full week I've seen here in twenty years.  I kept as much air moving through the space as I could but it was just barely tolerable at times.  Two participants preferred warm/hot weather, but for us Minnesota boys it was on the edge.