With the legs in-hand it was time to build the writing box that went on top of them.  Again using mostly southern yellow pine from my pile I set to work.  It was straightforward but had to fit the legs precisely.  I dispensed with making the bow-front drawer for the box as it would be predetermined by the box itself.
To get practice for the re-sawing that would come soon in prized vintage mahogany I did that with this tulip poplar stock.
The joinery for the box was mundane but a necessary exercise.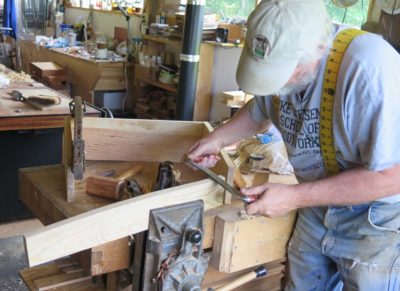 I established the curve of the drawer frame and the top with drawknife and spokeshave.
And put it together.  The writing surface was simply tacked in place with finishing nails as I would need to remove it to check the internals once the real project was underway.  On that version the top would be glued in place with glue blocks.
Up next: joining the legs, box and shelf to finish the prototype.