Like many woodworkers, over the years I have compiled more tools than I need (shhhh!; fortunately Mrs. Barn does not read this blog much so she does not need to be made aware of this confession).  It was often from noble impulses as I would see a nice tool that was way underpriced, and say to myself, "Let me get that and find a good home for it."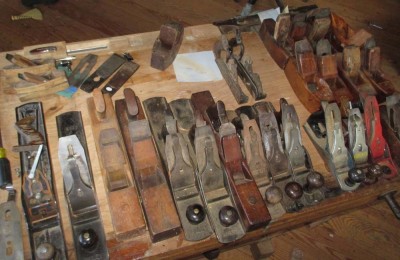 Regardless of the true motive, one undeniable fact remains;  that "good home" was not to be my studio.  There is no need for me to have several bushel baskets of tools that I do not and will not use.  Some redundancy may be sensible, but do I really need six #6 Bailey planes?  Or two dozen coffin planes?  Two drawers full of bench chisels?
Over the past week I have been trying to impose, or at least, evolve some sort of order and organization to the barn studio.  And time after time I would want to derive just the right spot for a tool or set of tools only to find that perfect spot was already full of boxes, bins, and tubs of tools.
So, beginning now and continuing through winter I vow to winnow my tool inventory, compiling a collection that I will sell, gift, or otherwise dispense.  I will try to have a nice collection for sale at the Maple Festival in March, but otherwise will find places I can facilitate the parting of company., SAPFM Chapter meetings, etc., and if necessary get a table at MJD's auction next summer.   I am not going into the tool mongering biz– it is done far better by folks like Josh Clark, Martin Donnelly, and Patrick Leach, and others, and I will leave them to it — I am merely cleaning house.
Some tools will be, or can be made into, very nice "user tools."  For example, the #7 Bailey I bought recently for $15, with flaking varnish on the handles and a blade that has never been sharpened.  Since I can sharpen fairly quickly it would be nice to get each edge  tool presentable.
It will be quite nice to gain the space occupied by these tools, and hope they will do good work in the service of craftsmanship.  In someone else's shop.
And all I have to do is stop buying more tools I don't need!