We were recently blessed with another visit from our dear friends, Mr. & Mrs. Ripplin'John.  They spent several days with us at the cabin and in the barn, and one of the days we took a day trip to Richmond to tour the Virginia Museum of Fine Art, a mid-sized treasure in the museum firmament.  John is working his way through an MFA with an emphasis on decorative metal-and-wood objects, and the VMFA has a simply fantastic collection of Faberge along with a wonderful collection of 20th Century furniture.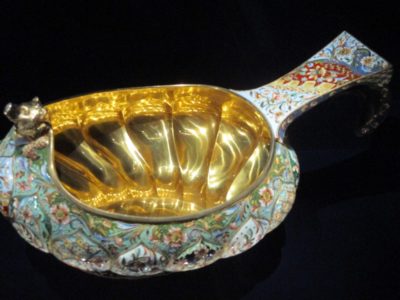 These two remarkable pieces were only two of many hundreds from the Faberge and related decorative metal objects.  My fascination with the collection and the ambient light levels discouraged me from taking many pictures in these galleries.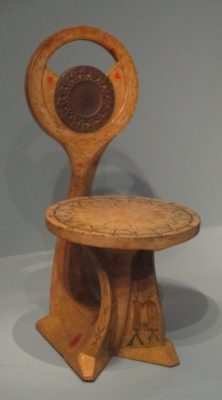 There were several captivating vignettes/galleries of Art Nouveau furniture, including this eye popping but hopelessly impractical chair by Carlo Bugatti, uncle of the car designer.
Just around the corner from that chair was this bedroom suite (I cannot remember at this moment whether it was from Galle or Marjorelle),
and this "office" or parlor set by an artist whose name does not come to mind at the moment.  In fact the entire collection is an expertly assembled compilation of all the familiar names, but as I sit here I cannot instantly recall all of them.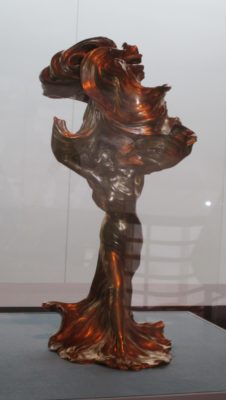 Out in the hallway were these spectacular objects, including a bust by the incomparable Alphonse Mucha and the figurine lamp that is so vibrant you can almost sense the wind billowing the fabric around the model, a la Cyd Charisse in Singing in the Rain.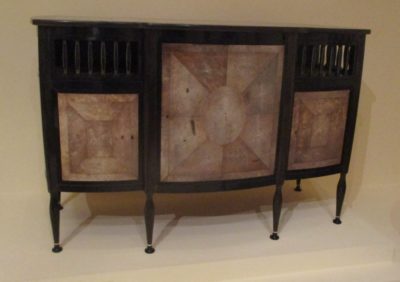 On the other side of the hallway were many more galleries with equally spectacular furniture and accessories.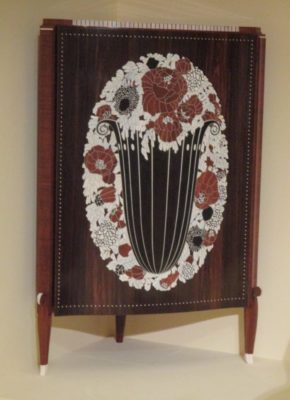 This Ruhlmann cabinet is every bit breathtaking as you would expect.
One of the pieces evoked a bittersweet memory.  Several years ago Mrs. Barn and I were at an outdoor auction and I saw one of these Stickley box chairs from across the parking lot, and I took off like a bird dog.  My first thought was, "I hope I'm the only person who knows what this is."  (The chair was in literally "as new" condition, and I say that like almost never, as though someone bought it a hundred years ago and then put it in the closet ever since.  I mean it was in perfect, original condition.  *Every part* of it, except for the feet which were sitting in a mud puddle at the time.)  My second thought was, "Given that this is a 'cash only' auction, how much money did we bring?"  In the end the second consideration was moot (~$1500) as the sale price was close to $8000, which answers the first question.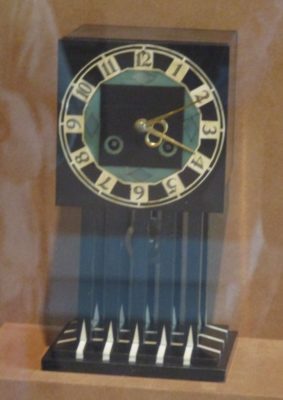 As a total Mackintosh fan-boy I absolutely loved this ensemble of a fireplace surround, a diminutive shelf clock, and several of his chairs.  This chair was my favorite.
A grand day for sure, and I can recommend the museum especially for its furniture collections.  Plus, there is no admission fee!