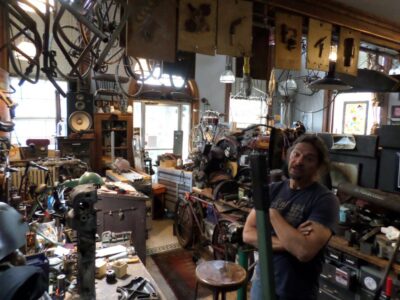 During our recent visit to Youngerbarndottir and Li'l T I arranged to travel a few dozen miles to visit my long-time friend "Jersey Jon" of American Pickers fame.  Jon is one of the smartest and most creative people I have ever met, not only exceedingly talented but extraordinarily skilled at a whole host of activities.  I am honored to be in his circle of friends and colleagues.
His reputation as perhaps the world's leading expert on the history and restoration of pre-WWI motorbikes is well deserved.  We spent a few hours rummaging around his old bank building as he described a never-ending menu of upcoming projects.
One mind-blowing project was his need to rebuild this crankcase of a very early motorbike engine that had blown itself to smithereens.  As we noodled the process and outcome of the project, I was pleased to realize that the smelting furnace I gave him two years ago was likely to be integral to the solution to the problem of getting this ultra-vintage motor bike back on the road.
It could have been a much longer visit but he was on the countdown to leaving the next morning for a fortnight of Pickers filming.