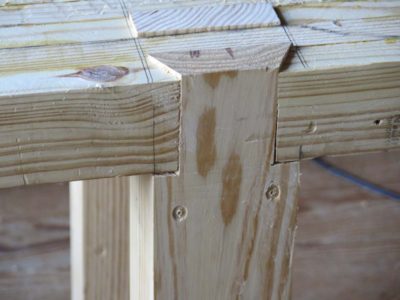 Perhaps nothing identifies the Roubo bench from all others like the beefy legs set into the double mortises, one dovetailed, through the slab top.  For this prototype I simply chopped and ripped the 2×12 SYP stock to give me four legs of three lamina, 36-1/2″ long and 5-1/8 wide to give me a margin for trimming the length and planing the width.
To glue up these legs I used my favorite laminating clamping system, namely decking screws and washers.  I've written about this before but forgot to take pictures this time, so I'm inserting a picture from a previous project where I used this method.  I simply laid the middle lamina on the bench applied the glue, and placed the outer lamina offset along the length to slightly exceed the thickness of the top slab, and drove in 10 2-1/2″ decking screws with 3/16″ ID washers.  (These washers left some substantial divots in the wood, so next time I will probably use fender washers instead).  I flipped the assembly over and repeated the process with the opposite outer lamina, again off-set by the thickness of the slab, applied the glue, drove the crews and set it aside overnight.  The next morning I removed and screws and washers and was ready to clean them up at the bench.
Fortunately my Emmert K1 was up the the task as always, as I planed the legs flat and true.    Good wood, good tools, good time.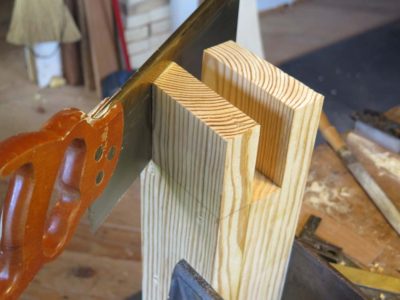 I wrapped up the leg prep with the single hand work step required for the project.  since my goal was to make a prototype that could be replicated by the full range of woodworking aptitudes and experiences, yet come out the other end with a heritage quality bench, I was determined to keep the skilled hand-tool processes to a minimum.  I think the number "1" meets that requirement.  Using a rasp and a float to finish the fitting the legs were ready for insertion into the slab, which is what comes next.
===============================================
If you are interested in joining us for a week-long workshop to make your own heritage quality Nicholson-style or Roubo-style bench July 25-29, drop me a line.