We recently convened our second Ripple Molding Think Tank at The Barn and great progress was made.  The aggregate objectives were both vague and simple, to explore the world of making machines to fabricate ripple moldings.   On an individual context I was looking to build my own version of a 17th century machine, as was Travis.  Sharon wanted to start fabrication a petite version suitable for bench-top mounting and produce diminutive moldings for her own artistry.
Since last year's confab John had already built a fully functional wave/ripple molding machine and wanted to improve its design and performance.
Starting first thing Monday morning Travis and I started cutting up some of my pile of SYP into machine structural parts, stopping to assist John in assembling his unit.  By lunch time we were constructing our machine bases, both generally in tune with my First Edition Roubo prints depicting Roubo's interpretation of a machine he had never seen.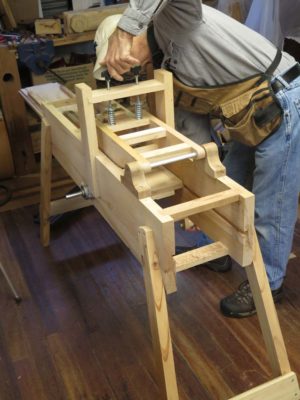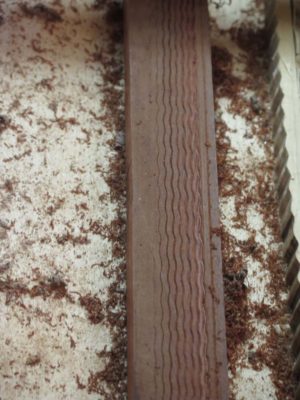 Meanwhile John was deep into squeezing that last 10% of performance from his machine built in the aftermath of the International Ripple Molding Association first gathering.  He had already nailed the ripple effect (up and down), now he was trying to dial in the wave effect (side to side).
Sharon arrived late on Day 1 just in time for dinner of Mrs. Barn's outstanding cooking, and we were able to hit the ground running even faster on Day 2.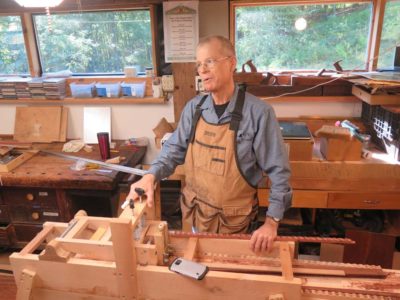 The first thing we did then was to record John giving us the walk through of his design ideas and manifestations.
He was effusive in extolling the outrigger arm he integrated into the cutter head, stabilizing the front-to-back flexing inherent in the cutting, and a robust drive with a drive gear and a rack mounted to the underside of the moving platen.  That was an unbelievably useful exercise as we were able to get the big picture in a linear fashion as to his working and thinking about the problem, which in turn informed and directed our labors through the week.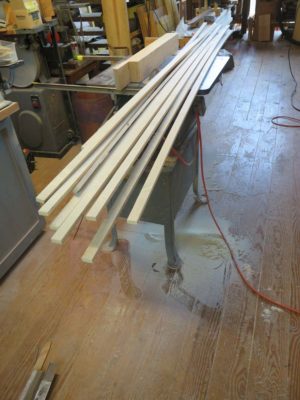 Once everyone got back to working on their machines I began devising a system for creating the scalloped patterns that were necessary for cutting the ripple moldings.  First I cut a dozen identical 8-foot strips from 1/2″ baltic birch plywood to use as the stock, then double-impregnated one edge with dilute epoxy to provide for a cleaner edge when the patterns were made.
I came up with a handy jig for making the precision patterns on the drill press.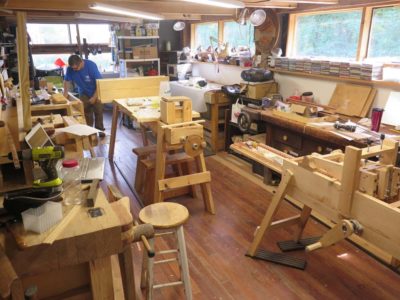 Meanwhile machines were beginning to take shape all over the place.