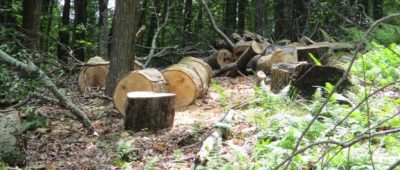 It's been a preposterously wet early autumn and my routine of firewood processing has been disrupted mightily.  It's looking like there may be some break in the daily rain perhaps next month some time, at which time I will dive in with vigor in pursuit of my goal of cutting two years' worth of firewood, which must be a dozen tons or so.  This is a pile of 24″ diameter bolts I cut the last nice day we had almost a month ago.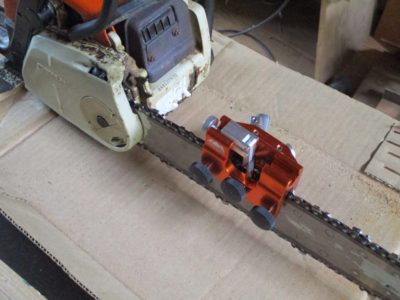 This year I have acquired a specialized sharpening tool to make my work faster.   Harvesting wood in the mountains is a challenge, not the least being that when trees are brought down the ground underneath them is rocky, rocks being our primary agricultural product here.  No matter how carefully you work with a chain saw it is only a matter of time before you nick the rocky soil with the running saw, inflicting great damage to the saw chain which requires a pretty thorough re-sharpening.   And, my saw is slightly under powered (read: "lighter than a concrete block") which means I need the cutting to be as efficient as possible.
I'm pretty good at chain sharpening but I am not fast, so I explored this tool with great interest.    Though pricey, roughly the same as a high quality sharpening stone for my finer woodworking tools, it has proven to be absolutely worth it for me.  Acting as a reverse pencil sharpener that attaches directly to the saw bar and sharpening each tooth hollow with a quick turn of the carbide bit, then moving on to the next indexed tooth with alacrity, I can get even a damaged chain ready in a couple minutes.
Here is the whole process demonstrated in near-real-time.