JimM sent more pictures with the following commentary: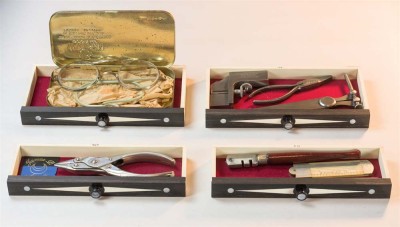 The drawers are Studley's but the contents are mine. Most of the original
tools contained within were specialized for the piano or organ trade. I 
replicated those that could be seen on the open cabinet, but decided to
use machinist and wood working tools from my collection to fill the 
drawers. They are all vintage and contemporary to the period. 



I also never really warmed up to the original design on the small ebony 
front drawers and decided instead to repeat the design on the drawer 
rails. Adding MOP to the drawer knobs made it look symmetrical.