Over the past decade I have looked at dozens of piano makers' vises similar to the ones H.O. Studley had on his workbench.  Even at this very moment there are five in the barn.  The head-scratching part about them revolves around two questions; 1) what were the processes of piano making that required such a remarkable vise, and 2) why are there no makers' identifications on any of them?  Given the time in which these vises were made, late 19th and early 20th Century, when manufacturers were stamping their names on everything that could be marked, this absence of identification was mystifying.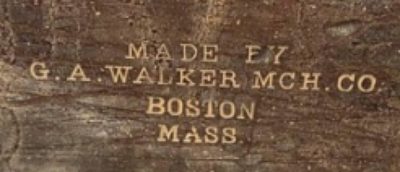 This week I got a picture from a friend, who had a friend who just bought a piano makers vise, and lo and behold there is a maker's stamp right in the middle of the moving jaw, front and center.
Very exciting indeed.