One of the things about the Allegheny Highlands of Virginia is the abundance of rocks.  Everywhere.  Even when preparing the soil for gardening a roto-tiller is pretty much useless as watermelon-sized (and larger) boulders lurk just under the surface.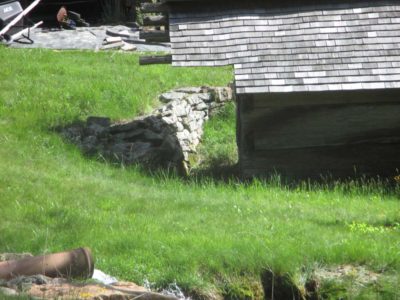 On the other hand there is plenty of raw material for masonry and dry-stack stone walls.  Fortunately for us locals there is an artist in stacked stone, DanielH, who, perhaps not coincidentally, has the physique of a power lifter.  We have long noticed a gradual collapse of a retaining wall around the old spring near the cabin, and after being on Daniel's waiting list the day finally arrived for him and his helper to come and rebuild it.
I'm not sure how well this shows up in photos, but a few short hours of their skilled ministrations and the wall looked a-new.  Not being one to backseat-drive I left them to their work while I was up in the barn.  By the time I came down the hill for lunch they had un-stacked and re-stacked the wall properly.  I do not know how long the previous iteration has been there, but I am pretty sure the new configuration will last for generations.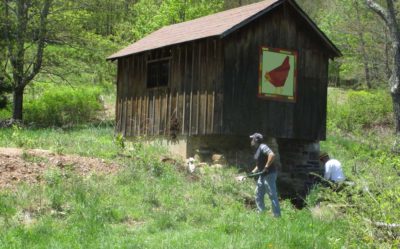 Not content to leave it at this tiny project we decided to commission him to build a retaining wall leading into the root cellar.   They hand-dug the excavation for that  and will build up the inventory of rocks needed to chisel and fit them into a finished wall in the coming days.
There is something truly impressive about watching a mesomorph balletic-ally  maneuver a nearly half-ton rock delicately into place.
Stay tuned.