I recently returned from almost a week getting the barn and the cabin ready for winter habitations, inasmuch as this will be the first winter in which we actually habitate them.
One of the big tasks was to make progress in the library, completing more of the uber-low-tech bookcases to house the thousands of books that need to reside there, along with re-purposing other cabinets like this one used for oversized books.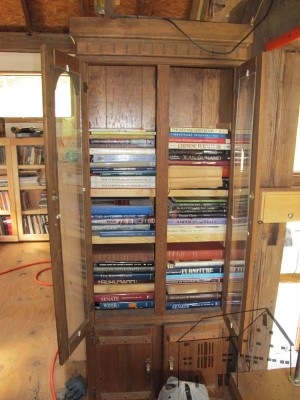 My activities took me through my studio frequently, and I could not help but notice the gaping void in the middle of the space.  I created that void for something special, which has not come to full fruition yet.
But, my day is coming.
PS  Here is the latest picture of the library.  The big honking slab of working table in the middle of the floor is actually a 30" x 2" x 16-foot piece of eastern white pine that is probably 150 years old.  When I get the time I will make a trestle refectory table out of it for visitors to use for reading, writing, or dining.  Since the books will all be behind glazing, eating there is okay.