During my recent Introduction to Historic Woodfinishing workshop I used a parquetry panel to demonstrate the substrate preparation processes and found it so useful that I said to myself, "Self, you should do this demo at Handworks."  In the blink of an eye, I committed myself to cranking out six more parquetry panels in a very short time.  I will do four (hopefully identical) demos of French wax finishing, at 11AM and 3PM both days.  My plan is to take a panel from rough parquetry to gleaming in about 20-30 minutes using analogs to the tools, techniques, and materials available to a Parisian atelier.
With an audience looking over my shoulder.
Wish me luck.
In the meantime I had to actually fabricate six parquetry panels; four for the demo sessions, one more to remain "raw" and a sixth to be completed in advance to use as a showpiece.  The only ways I could conceive to finish such an undertaking were 1) cutting parquetry lozenges by hand for several days running, or 2) use my bandsaw or table saw to gang-cut stacks of lozenges.  After initial trials I decided to follow path #2 with my little Delta benchtop bandsaw.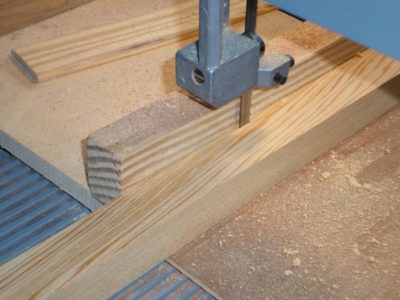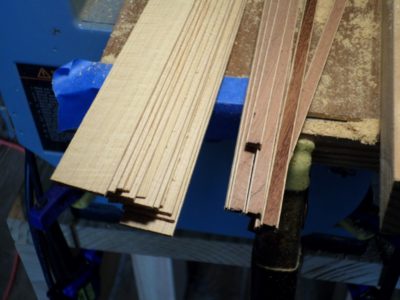 I've used my bandsaw for ripping parquetry and banding stock strips before, but could I tune the machine to actually create the diamond lozenges themselves?  Let's FAFO (Fool Around and Find Out).  *Spoiler Alert!* – the result was so successful that it will likely be my standard procedure from now on.  My days of hand cutting individual diamond lozenges may be over.
I first fabricated a crosscut sled for the bandsaw from some scraps of maple runners and mahogany plywood.  I ran this through the saw approximately halfway, then inserted my thin 6″ machinists' rule into the kerf to serve as the reference line.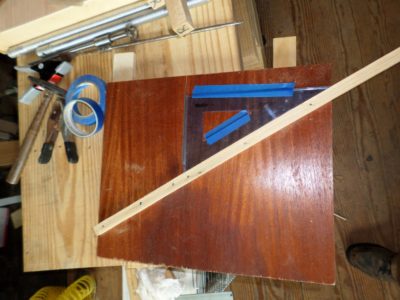 Taping a 30-60-90 triangle in place against the reference line, to make sure nothing moved, I tacked a fence to the sled at 60-degrees to the kerf.  I often use tacks rather than glue in cases like this because I can induce micro adjustments with a hammer when necessary.
Using the newly installed fence I cut a 60-degree stop block to use whenever I want to cut 60-120-60-120 lozenges.  For any particular composition of parquetry I cut a slice of the veneer strip then rotate it and place it against the blade to establish the placement of the stop block against the fence.  One good/bad feature of the little bandsaw is that the blades are very thin with almost zero tooth set.  Not good when making rough cuts in irregular stock, excellent when making precision cuts in identically prepared stock strips.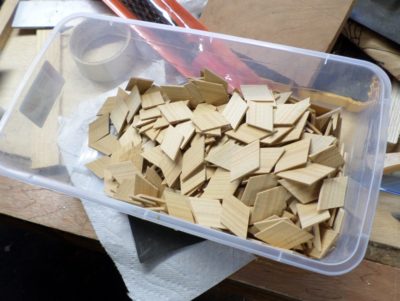 With the machine set up and the test cuts made to assure the angles and dimensions were spot-on I was able to saw five or six diamonds at a time and filled my shoebox-size bin in about 20 minutes.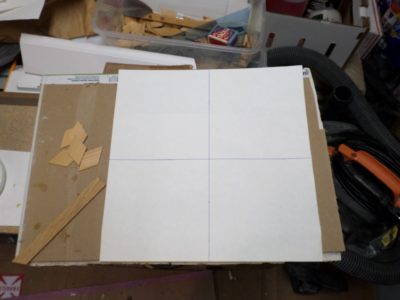 With the stock elements in-hand I laid out cross-lines on paper and got to work.
I find the cross-lines to be exceedingly helpful keeping myself on track as I glue down the diamond lozenges to the paper.  Any irregularity, no matter how miniscule, compounds and amplifies.  Hence the guidelines to keep me on track.  With precise diamonds and the cross-lines I could compose a complete foot-square panel in a little over a half hour.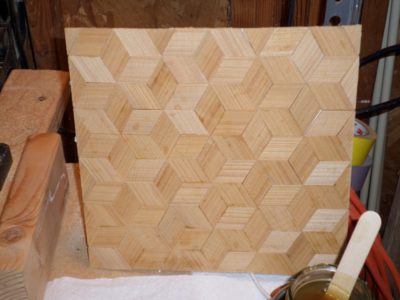 Trimming off the projecting elements with a veneer saw and Japanese knife the next morning I now had six compositions ready to glue down, in this case to 1/2″ Baltich birch plywood.
The irregularity of handsawn veneer (or bandsawn for us modernes), regardless of how carefully executed, is why the ancient ebenistes saw the toothing plane as the first woodfinishing tool to be employed.
On to mounting the parquetry panels face down on the plywood.  All the gluing for this project was done with 251 gws hot hide glue.
Final trimming in situ was followed by banding and perimeter strips.  I work two sides at a time, trim the ends of those two sides at 45-degree angles, then cut and trimmed the remaining pair of sides.  It took me a lot longer to do the banding and perimeter strips than to compose the original parquetry.
And with that I am now the proud possessor of six parquetry panels for showing-and-telling.  If you are at Handworks stop by and take a look.  I'll be in the center aisle of the Festhalle.