Many times in the studio I need to shake something, just a teeny bit.
For example, when casting plaster or plaster like materials, such as ceramic media for lost-wax casting investment, it is sometimes necessary to tap on the mold container to dislodge air bubbles that all too often get lodged against the surface.  If they remain there the casting will be diminished, even ruined.  Many years ago I looked into getting a vibration table for buzzing the molds while the medium was still liquid, loosening the bubbles to rise to the surface.  After pricing the available devices I decided to go another route.
What could I use to cut the cost of a vibrating table down to near-zero?
Hearkening back 55 years to my times with Stan the Barber I recalled two things — Stan always had the latest comic books for the boys to read, a real treat for me because we were too poor to get them, and the tickle of the vibrating electric clippers on my neck when he was trimming up.  Could electric hair clippers be part of the answer?
The next time I ran across some clippers at the thrift store I decided to roll the dice with a buck-and-a-half for the clipper.  I combined the tool with some scraps of wood, two pieces of plumbing strap and a few screws.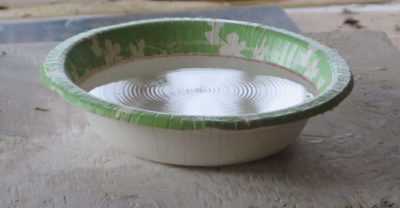 Viola'.  A vibrating table for a couple bucks and a couple minutes.