I had a close call today, a couple inches one way or the other, a couple degrees more off center, or a slight differential in the gravitational constant and Mrs. Barn would be trying to figure out how the survivor benefits of my pension plan worked.
The weather has been uncooperative lately, raining a lot and clear only when I was unavailable to mow, so the grass was getting mighty lush.  Today it was supposed to rain in the afternoon, and the grass was wet from a light overnight rain, but it was not raining this morning.  So, I decided that even though the grass was wet my new monster riding mower could at least knock it down.  It's a 24 HP V-Twin Husqvarna with a 48″ deck and can pretty much mow the whole place except for the trim work in under two hours, including the hillside next to the pond.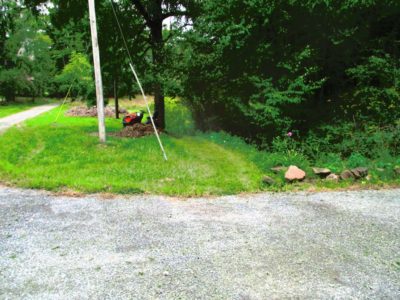 I was zipping around getting it done and was working between the driveway and the creek.  When I turned the wheel to the left just before the mulch pile, due to the slickness of the wet grass the mower went straight and then off the edge of the ravine with the creek.  In the blink of an eye I was tumbling down while in the saddle of a quarter–ton machine that was in the process of flipping over on top of me.  It happened so quickly I had no time to react.  A six-foot fall later I wound up prostrate in the creek underneath the overturned mower resting on my legs.  Seriously, had it gone an inch or two one way or the other, or rolled another couple of degrees, it would have snapped my legs and been resting entirely on my torso/chest.  It could just have easily been a fatal mishap in that event.  As it was the mower was balanced precariously, trapping but not really damaging my legs.  I lay extremely still so as not to disturb the entropy of the situation.
I gently called my bride over from her gardening to assess the situation, and at first she did not know where to go since I was out of sight  She immediately called 911 and they sent out the call to any volunteer rescuers in the neighborhood.  In about ten (?) minutes the first rescuer ( a Deputy Sheriff) arrived but the machine was far too heavy for him to budge (Mrs. Barn had known at a glance she could not help physically).  Soon two more rescuers arrived, and it took all they had for those three burly mountain men to roll the mower just enough for me to withdraw my legs and feet.  With the Deputy's help I was able to extract myself from the invigorating experience of laying in 56-degree water with a rough bed of rocks underneath me.  By then the Rescue Squad ambulance and attendants arrived and I scampered up the ravine wall and they checked me out.  Well, maybe not actually scampering, but I was upright and under my own power after the numbness of my feet was gone.  My BP was 130/70, my heart rate was ~70, and my respiration about 18.   One of the medics asked me how I could be so calm, but I figured the jitters would probably come in a couple hours (they did not)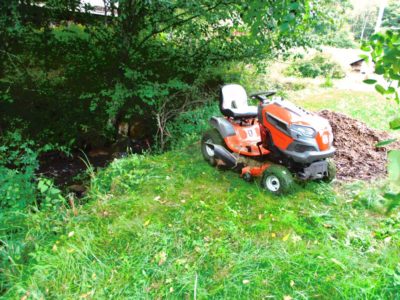 After I assured them I was not badly injured, the first rescuers rolled the mower upright and out of the creek bed and towed it up the ravine bank and back up onto good flat ground.  The "hood" had all come apart and was whomperjawed, but it is all snapped together in the first place and I did not observe anything broken.  I am certain I can put it all together without much fuss.  I let the mower sit until after lunch and it started right up, blew out a little oily smoke from being upside down, and drove into the barn without a hitch.
I probably should have had two broken legs and at least one broken foot/ankle, and substantial structural damage to the torso and head.  But, nothing much at all.  My left shin and calf are pretty sore and swollen and will really hurt tomorrow.  My right triceps is sore as is a right rib from laying on the rocks in the creek bed.  Oddly enough my gimpy knee seems to have emerged unscathed.  There may be other sore places tonight or in the morning, but I call out fervent thanks for God's mercy in saving me from any more serious injury, or sparing Mrs. Barn far-too-early widowhood.  God's lovingkindness is ever bountiful, even when things do not go especially how we would like them, and even more especially when we do them to ourselves.  It is truly miraculous, and I do not use the word as hyperbole, that I was not seriously hurt or killed.  Given the situation it should have been catastrophic,
I will now know to not mow anywhere close to the creek with the lawn tractor, no matter what.
I spent the afternoon working in the barn and will probably take it easy this evening.  I now pray for a painless and dreamless night's sleep.
Singing the Praises of God's Providence
D