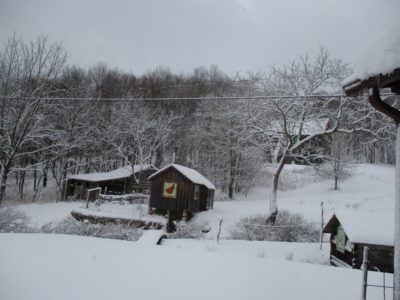 After almost a month of absence for family concerns I am back at our little holler here in the mountains.  First it was my mom's Memorial in Florida followed immediately by Mrs. Barn's father's passing and funeral in SoCal, then the first two weeks of cleaning out the house.  Her dad was a mechanical savant and child of The Dust Bowl and never threw anything away if it had some conceivable use in an imaginable circumstance by a theoretical person.  It strengthened my own resolve to continue dispensing of anything that is not really necessary in the shop or on the bookshelf.  I'm thinking that any book or tool left untouched after X amount of time needs to find a new home.
I expect to resume a full slate of projects tomorrow, depending on jet lag, which is way worse in my 66th year than in my 36th year.  I know one of the first things is to get caught up on my polissoir orders, and to make a new batch of Mel's Wax.  After selling only a dozen orders through 2020 I suddenly have several more and no inventory to ship.
Then back to door-making, book writing, tree harvesting, tool making, metal casting, video editing…
But for tonight it's Pale Rider while I get settled in.  I was originally thinking of Idiocracy but I am not in the mood for a documentary.