One of the truly exasperating aspects of the Gragg chair workshop was that my 10″ benchtop bandsaw was continuously malfunctioning, requiring us to go up and down two flights of stairs to the main floor with its two larger bandsaws instead of using the little beauty up on the fourth floor.  Chairmaking does not require fancy band sawing but it is an important contributor toward making it an efficient process.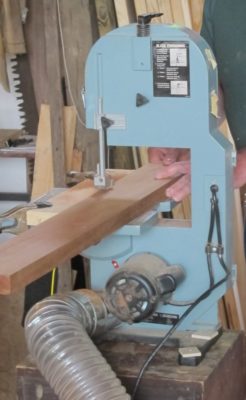 After much sturm-und-drang I discovered ex poste that the new 1/4″ bandsaw blades I'd had in the drawer for the 10″ unit were mismarked; instead of being the 56-1/8″ needed they were 59″.  I could get them on the wheels and run true when turning freely but they would not stay there once battle commenced.  I ordered new blades and they were the right size, so with a complete cleanup and adjustments, combined with new guide blocks cut from a rod of 1/8″ carbon fiber rod from my stash, the new blade installed and ran perfectly and now once agin the saw cuts superbly.
Meanwhile I decided to tune-up my 40+-year-old 14″ Delta bandsaw, a prize from a yard sale almost 20 years ago.  I think it was $100 complete with rolling base.  For a long time I had been contemplating adding a true rip fence to the saw, and finally made the plunge.  Even though the Kreg fence is designed to be installed on the left side of the blade, with a little tweaking I installed it where I wanted it on the right side of the blade.  Sweet.  I also finally added a dust collection port in the lower wheel cover, which combined with a simple bent sheet metal cowl around the lower guide block unit, reduced the sawdust by roughly 95%.
I am contemplating but have not acted on purchasing a carbide tipped blade for the band saw; the ~$200 price tag is a bit stiff.  If you have had any experience with carbide tipped blades for small bandsaws please let me know.
BTW here is an excellent short video on bandsaws that I discovered recently.