Since seeing my first piece of antique furniture decorated with tarsia a incastro, or "Boulle work," I have been captivated by both the art form and the technique.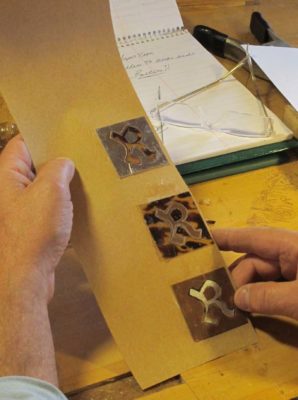 This ancient method of  using a minuscule blade in a frame saw, usually a jeweler's saw in our time, for cutting patterns in two or three layers of material comprised of the shell of a sea turtle, a sheet of brass, and sometimes a sheet of pewter, remains captivating to this day.   The result is the same number of completed compositions as the original number of layers in the stack.
Due to the prohibition of trade in turtle shells I invented my own very convincing replacement material I call Tordonshell.
So these three days will comprise of making your own piece of Tordonshell (I will have some pieces made in advance for the workshop) and sawing patterns from packets we will assemble for cutting.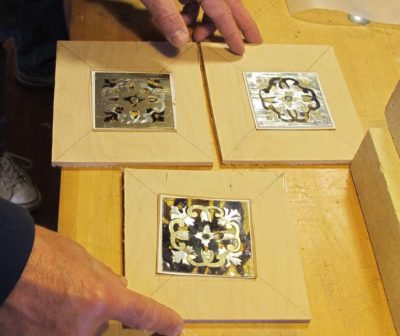 Though we will be cutting them vertically to begin, there is a chevalet in the classroom and anyone who wants to give it  try is welcome to do so.
*********************************************************
The complete 2018 Barn workshop schedule:
Historic Finishing  April 26-28, $375
Making A Petite Dovetail Saw June 8-10, $400
Boullework Marquetry  July 13-15, $375
Knotwork Banding Inlay  August 10-12, $375
Build A Classic Workbench  September 3-7, $950