It's hard to believe that Sgt. Don's Bench Boot Camp convened a week ago!  Dave returned home Sunday, dragging but elated, and with my schedule of upcoming event preparations I am not sure how much more will get done on Jason's bench when we head back to "civilization" in a couple days (one great thing about time in the hinterboonies is that we pay less attention to the activities out in the asylum).
Jason has been plagued by a misbehaving back all week, so it has been a constant challenge for him.
As the week continued there was a lot of sawing and pounding as the pieces of the benches were formed and fitted.  Dave made great strides as this project was the first of its kind for him, or for Jason for that matter.  As with intense projects, even with regular housekeeping the place devolved into near-chaos on a regular basis.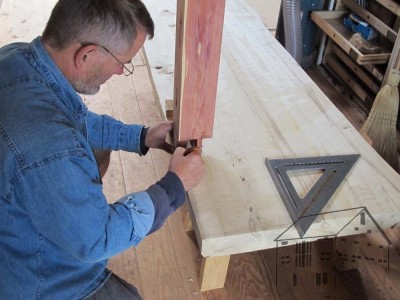 In short order Dave got his double tenons layed out,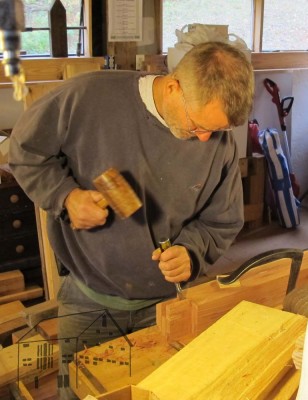 the mortises cut and chopped,
and much to his joy their first test fitting was very positive.  Given the top of hackberry and the legs of aromatic red cedar, both sorta spongy, I knew we could whack it all together in the end.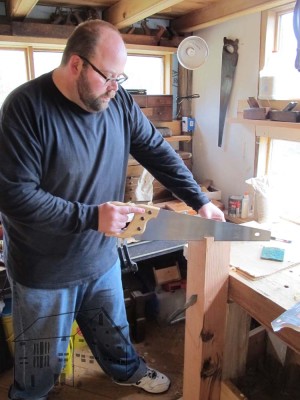 Not to be undone, even though he could stand for only short periods of time, Jason lit into his two Douglas Fir front legs with gusto.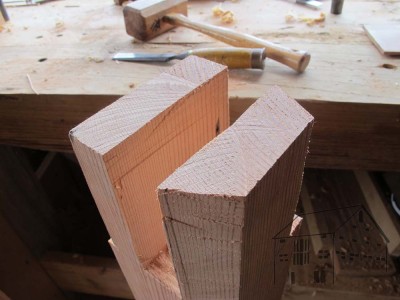 Unfortunately the Douglas Fir stock set aside for the rear legs were just too punky to be useful.
Fortunately I had a pile of 125-year-old superb Southern Yellow Pine timbers and he prepped and made the rear legs from this.  Given the age of the wood, it is not surprising that Jason found out how hard and tough vintage SYP can be.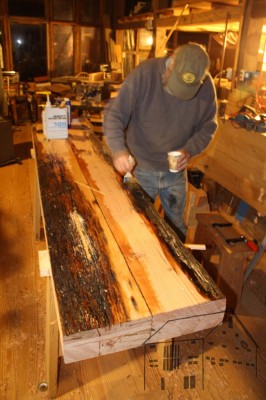 The punkiness of the legs was evident on the underside of the top as well, always a hazard when repurposing salvaged wood.  If we removed all of the damage to get down to sound wood we would have had to remove at least an inch, but we liked the nearly 5 inches we had for the top thickness so I chose another route.   Instead, I brushed an application of diluted epoxy (~20% acetone) onto the affected areas, and that worked like a charm.  It took two days to harden sufficiently. But it consolidated the damaged cellular structure enough to make it firm and sound without turning it into a block of solid brittle plastic.
I exploited the properties of epoxy to make a repair at one corner as well, which had a chunk missing due to the same previous deterioration.  To cut this off would have cost us nearly a foot of overall length, so we used a technique I have employed with great success when dealing with damaged timbers.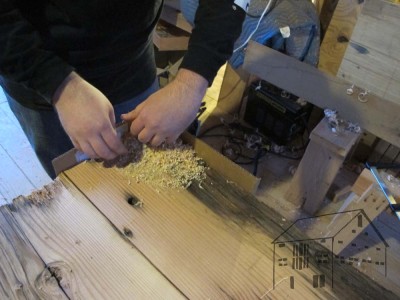 I made a form from a cardboard box and stapled it to the corner, then packed it tightly with wood shavings,
and poured in slightly thinned epoxy (less than 10% acetone) to fill the entire void.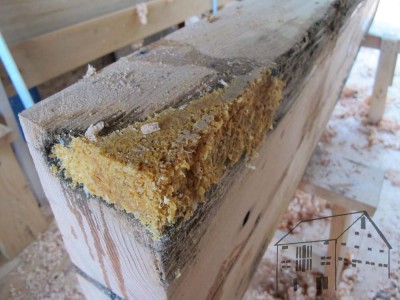 The combination of the wood shavings and the exothermic phenomenon of the epoxy boiling in place aerated the fill, rendering a rigid, well-adhered fill that can be worked with typical woodworking tools.
While it does not render a "finished" surface it is easily planed and rasped, certainly adequate for this function and location.
I also employed a technique I've used with great success when restoring old timber structures by using tape as my layout lines for cutting joinery.  With care it is exceedingly quick and stupid easy.
It was here, too, as the cut joints were snug and tight when placed in the mortises.
With Jason's mobility limited I gladly pitched in to get his joinery moving forward wrapped up.
Apropos almost nothing, here are two pictures summarizing the week.  The weather was uniformly grim, with heavy misty fog blanketing the valley for several days.
This picture of Peter Ross' holdfast is just cool.
One special treat for Saturday was my checking out for an hour or so to visit our local Sheriff 's farm (a woodworker) where they were making fresh apple butter.  I returned to the barn with a jar of still-hot preserves and a sleeve of crackers along with a jar of organic peanut butter.  This late afternoon snack was all we needed for dinner that night.
As dusk fell Saturday night we were oh-so-close to assembling Dave's bench that the two of us drove on even after Jason's back forced him to retire for the night.
I jumped in to help with the side stretchers, and some time around nine o'clock we fitted, cajoled, clamped, and sledged-hammered the whole thing together.
Even dry and untrimmed, the bench was unwavering in its beefy rigidity.  Dave was rightly pleased with the accomplishments of the week as it both stretched his abilities and resulted in a project that has already changed the way he works, and will continue to refine and expand his work from this point forward.  I have asked him to contribute an occasional blog post here to recount the new chapter in his artisanry.
Sunday morning we loaded Dave up and I departed first heading off to worship.   Jason had a slate of assignments while I was gone, and when I returned later that afternoon he had made good progress.  Seriously, having your back acting up robs you of so much power and stamina but he was a trooper.
Tonight frustrated me as one of the legs simply would not go into its mortises, and I cannot yet see any reason why that would be so.  I will noodle it in the morning when my brain is more alive and see what I can figure out.