The task for the second day of training at the Library of Congress rare book conservation lab was for each of the specialists to emerge at the end of the day with a perfectly prepared matched set of oak bookboards in order to create their own model of the art form.  Considering that this was an assembly of gifted folks with near-zero woodworking experience, that is no small feat.
Re-sawing in the vise, crosscutting, and trimming on the bench hooks was what consumed the entire day.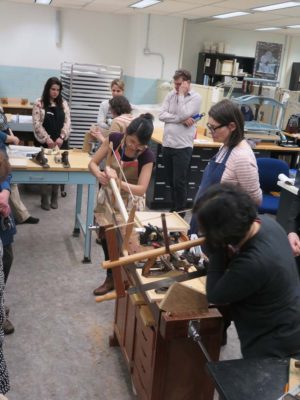 I let them try any number of re-sawing methods, ranging from my vintage 4tpi carpenter's rip saw, my own bow saw or their bow saw, a range of Japanese saws they had in-house, my French style frame saws, etc.  I have to say that by nearly unanimous confirmation the Japanese saws came out the favorites.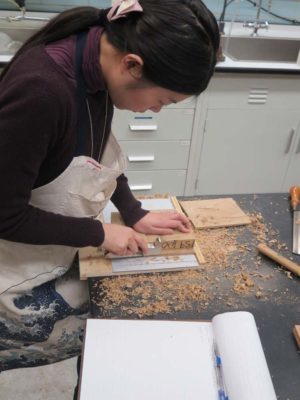 Following the re-sawing, and the flattening of one face of each of the two bookboards, I asked them to mark the desired 1/4″ thickness with a gauge and shoot a rabbet around the perimeter for the final thicknessing by hand plane.
Off they were to the races.  After the boards were to the proper thickness they were sawn to width and length on the bench hook with back saws or Japanese saws, and all four edges shot also on the bench hook, mostly with either block planes of small bench planes (most of the book boards were in the 5″ x 7″ range).  The final step was slightly beveling the edges.
As I packed up at the end of the second day I think everyone was well on the way to having their own pair of boards ready for making their model book.
It was an unmitigated delight to introduce them to the tools and processes of making their own bookboards and I look forward to getting reports of them applying their new skills to projects in the future.  The virus of hand toolism was planted, and some of them even went to the recent PATINA tool sale two weekends later.
Now I just gotta see to fixing their orkbench problem.