Over the winter and into Spring I was able to go to Maryland a few times to work on replacing the cedar shingle siding on our daughter's house there.  The progress was steady but slow.  For starters, a things progressed the work got higher and higher on the ladders and I simply do not scamper up and down like I used to, added to the inherent risk of high ladder work I was exceedingly cautious while working.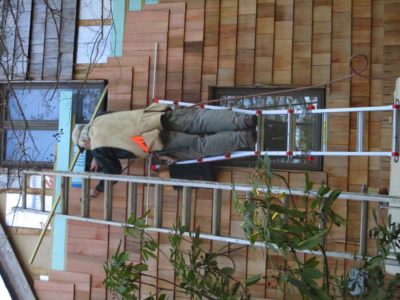 In October I noticed that my knee began to progress(?) from a constant dull ache to a sharper twinge and finally to an acute pain that kept me mostly on the coach with ice and heat.  Turned out the episodic ice-pick-through-the-knee was due to an inflamed/damaged meniscus, and after almost going down in the middle of a flat parking lot Mrs. Barn put her foot down and directed me to actually to go to the doctor, who prescribed Physical Therapy for a month. The results were spectacular and I continue a 75-minute exercise routine on alternating days and now I've been feeling no discomfort in the knee for the first time in 50 years.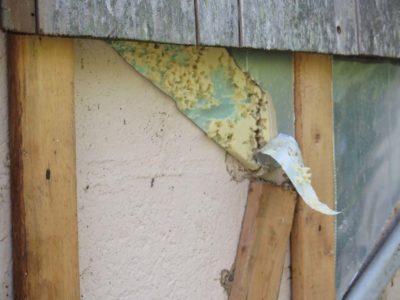 As for the house siding project one of the most difficult aspects was the safe removal of the 2′ x8′ cedar shingle panels I installed 35 years ago.  In the intervening period there was a lot of penetration with plumbing and electrical projects, requiring several of them to be cut away in pieces while up on the ladder before carrying them down the ladder and over to the trash pile.  While there was very little additional damage from the cockroach's cousin in the wood there was a lot of nesting/penetration in the rigid foam insulation.  I replaced a lot of that and added another layer of insulation in between the horizontal firring strips required by the new cedar shingling.
I evaluated the production of my days by the number of tote bags filled with shingles I used, and a really good day had me installing a half dozen.  Now the end is definitely in sight.