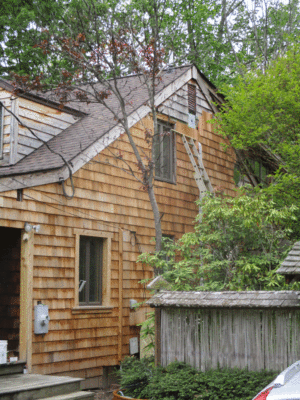 Progress on the house siding has been slow but steady.  On our last trip I made it all the way to the peak of the wall, making sure to be careful and cautious the whole way up and down the ladder,  The use of which made me think of my late friend and colleague Mel, who gave me the ladder with the comment, "I'm done going this high."  The ladder is a beast but there is no other way to get to where I needed to go.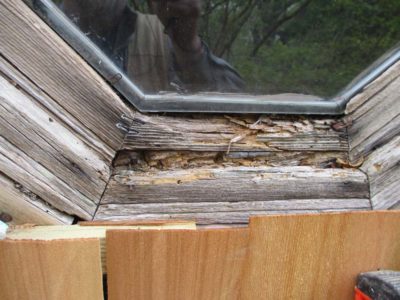 As I was zooming along thinking I would get the entire wall ready for trimming out I made it to the octagonal window in the master bathroom.  Uh oh, this does not look good.  The bad news is that the window is totally shot.  I'd painted it when installing it 33 years ago but time has not been kind to it.  So out it came, adding another thing to my "To Do" list.  I will make a new one immediately on return to Shangri-La.
The great news is it is plain old weathering and rot, and the surrounding material was in perfect shape.  No evidence of  a cockroach's cousin to be seen anywhere in the vicinity.
I have been sending pictures to old friends who know the house, and one replied, "This looks great and like it will last another forty years.  By then you will have to be REALLY careful up on top of the ladder!"