The final steps in the conservation of the carved teak table were to augment/replace the missing ivory filigree elements in the top.  Using ivory as in the original was impractical for a couple of reasons, not the least of which was that the budget for the project did not allow it.  Secondarily the softening of ivory strips adequate for the tight bending into the now-empty channel would have require boiling the ivory in a lye bath, which was not something I was eager to undertake.  So, I took and entirely different path.
In my inventory of stuff was some heavyweight paper of exactly the right coloration for the job.  Since it was 100% linen rag paper it fit perfectly the desire for the repair to be both permanent if left alone and easily removable if such a desire emerged in the future.  It also fillied the empty channels to perfection.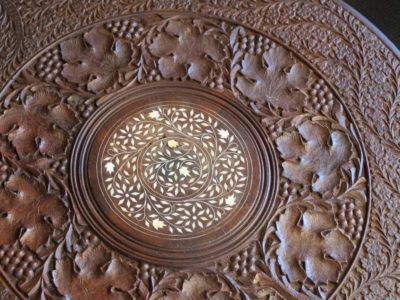 I cut the paper into strips that were proud of the surface by abut 1/16″ and set them into the voids.  I then used a striping brush to saturate the paper on both sides of the fill with 192 Special hot hide glue to make sure it was perfectly saturated and would adhered to the channel and harden to the degree necessary to trim it.
The next morning I carefully trimmed off the excess paper projecting up past the adjacent surface with a just-sharpened small Swiss bench chisel, then swabbed the area with distilled water to remove any surplus glue.
With that the project was essentially done.
A quick application of paste wax finished it off, and I folded up the base and took it back home.