The tortoiseshell surface of the mirror frame was replete with areas of delaminated and detached (lifted) shell veneer, with even more numerous areas that were delaminated but not detached as they were still adhered at their margins.
This was particularly prevalent at the seams of the shell pieces.
Nevertheless as most of these regions were stable I left them alone.  They are not at imminent risk, so I can always return to them should the situation change.

The main concern was those pieces flapping in the breeze, or in danger of becoming so.  Those were the areas where I needed to introduce adhesive underneath them, then clamp them in place until it dried.
I chose Milligan and Higgins 192 Special hide glue for my adhesive; it has more than enough shear strength, and is much more tacky quicker than the standard hide glue (eliminating the need to add glycerine as a tackifying plasticizer).  I soaked it overnight, 1 part glue to 2 parts distilled water, then cooked it twice on my coffee cup warmer before using it.
With my fingertips, or often with bamboo skewers and hors d'oeuvers toothpicks I gently lifted the edges of the tortoisehell and inserted my glue brush underneath, working it until there was excess glue present.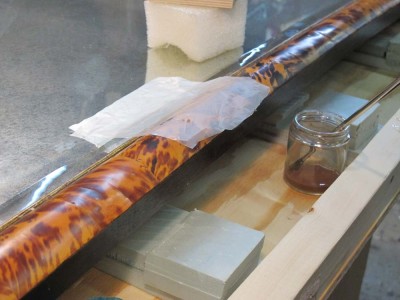 I then pressed down the shell by hand to swab off most of the excess glue, then laid down a piece of this plastic sheet (I really like food vacuum packing membrane for my gluing barriers; I bought several rolls on ebay for about fifty cents) followed by a shaped caul of polyethylene foam.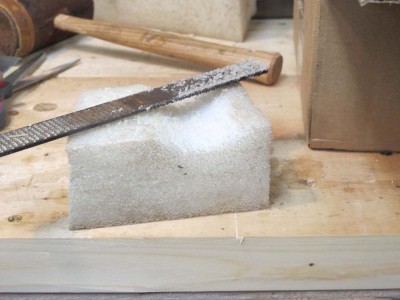 I made the cauls from scraps of foam left over form various projects, hollowed out with a few strokes of a convex rasp.
When in place, their concave shape provides admirable clamping pressure on the convex surface of the mirror frame.
I placed a foam caul over each section being glued, followed by a piece of plywood backing and a clamp.  Extreme clamping pressure was not needed, only enough to hold the shell in contact with the substrate until the glued hardened.  I left it over night and removed it in the morning.
I was fortunate to have success with every glue-down, not always a certainly when working on a contaminated surface and substrate.