One of the myriad headaches of relocating  slowly from a home of 29 years is that the contents of the former home do not accrue to the future home evenly.  As a result I often find myself in one place or the other reaching for a tool or supply for a necessary task, only to realize that the thing I need is 216.7 miles away.  Such was the case last night when I needed to cast some epoxy replacement pieces for a project upcoming next week.
Normally when I am casting epoxy pieces replicating wood I dust the rubber mold with pigment, then add more pigment to the epoxy as I am mixing it then pour the pigmented epoxy into the pigment mold.  You guessed it, all my powdered pigments have already been moved to The Barn.  Grrr.
Calling around this morning I found that the nearest powdered pigments were an hour away.  What to do, what to do?
Well, consider that pigments are simply highly specific dirt.  The pigment I needed was burnt umber.  Where could I find some reddish brown dirt?  Hmmm.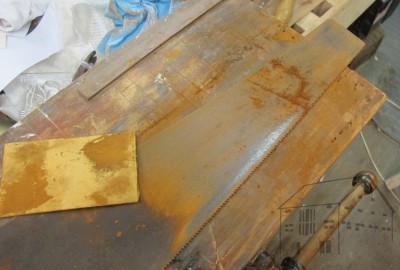 As I was pondering this question while puttering in the shop, I looked at some newly acquired vintage hand saws from the flea market, one of which was pretty uniformly encrusted with rust.  Coincidentally, rust falls somewhere between burnt umber and red ochre.  Perfect!
In a few minutes with a piece of sandpaper I had all the beautiful pigment I needed.  Perfect color, perfect texture, uniformity.  Free and already in hand.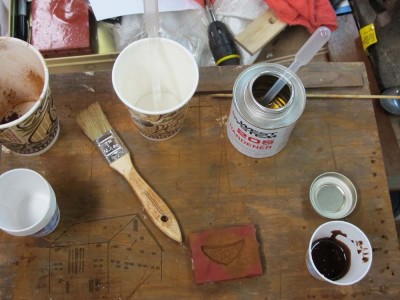 So, I took some of the powdered iron oxide (rust), sprinkled it into both the mold and the epoxy, and did the deed.  It turned out exactly the way I needed it to be.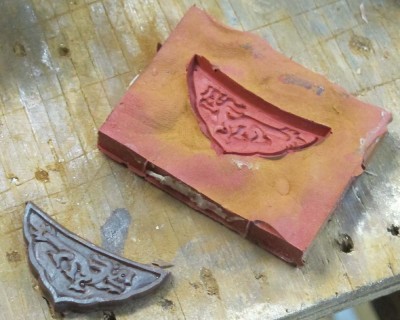 Plus I got to move down the path to restoring some old saws.
Materials science is our friend.  Learn it.  Love it.  Live it.