One of my initial design/aesthetic choices for the standing tool cabinet was to make the prominent detailing to be black, along with the entire interior.  In the former case it was to set off the comparative blandness of the oak veneer, about which there will be exhaustive posting in coming weeks, and in the latter it would serve to set off the tools themselves.  As to the ebonized stringing in between the parquetry I am not yet fully convinced — I may instead go with rosewood which will serve the primary purpose equally well, although it will not tie-in with the interior well without further design– but ebonized interior is already a fait accompli.
The ebonized stringing for the proof-of-concept parquetry exercise representing the outer skin began with a piece or two from the pile of 1/4″ tulip poplar I had on hand, itself a raw material for yet another proof-of-concept for some fauxrushi I am prototyping.  Using water soluble shellac as my coloring medium, a/k/a India Ink, is a method I use frequently.
The big box store pieces of tulip poplar fit a flower pot tray perfectly, so I used the tray as the immersion bath for the board.  After soaking it all night the surface was really black.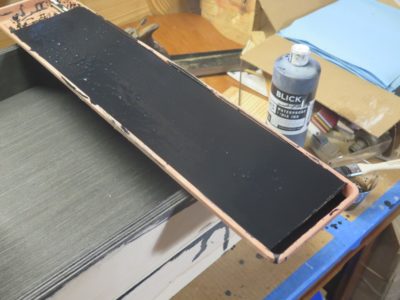 Even then when ripping the bards on the bandsaw it was apparent that the interiors were not well dyed, so I repeated the tray and India ink step again with the strips.  The result was a pile of 1/4″ wide ebonized stringing strips.  That might sound a tad wide to you but remember, the front presentation of the cabinet as 4-feet-by-3-feet.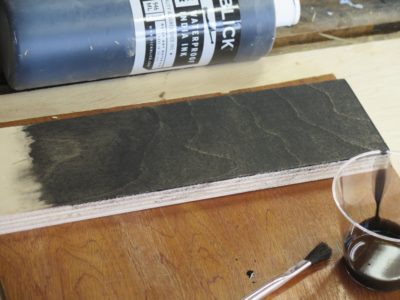 As to the interior, I noted that the soaking of the plywood with India ink yielded a very desirable surface, black-ish but still retaining the character of wood, a result not really possible with something like gel stain or il paint.