Among the multitude of planes that I own and use, the five previously mentioned are my Pantheon.  Three more planes are "near misses" for one of three reasons.  First, even though the tool might be called "a plane" it might not really be a plane in the most common sense of the word, that being a tool to make lumber flat, smooth, true, to a specific dimension.  Second, it might not be as integral to my own work, in other words my projects might not require this or that tool.  If your projects do require this tool, wonderful.  Finally, I wanted to make sure the Essential Planes were not gargantuan or heavyweight; my Pantheon are things that would be found in a reasonably-sized traveling tool box.  Admittedly, these restrictions are idiosyncratic and almost arbitrary, but so be it.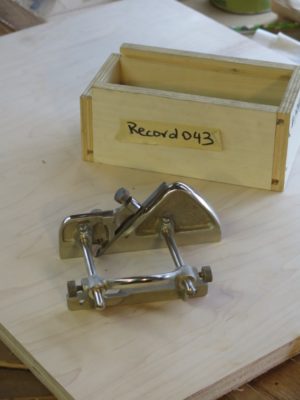 One of the tools in the "near miss" category is my sweet little #43 mini plow plane.  Though technically a groove cutter rather than a stock prepping tool, it is called a plane in the lexicon so I will do so too.  Were I more of a frame-and-panel sorta guy (I have recounted about how I am a premium plywood user for panel construction, even to the point of laying up my own custom veneer plywood) it would be right up there in the Mount Rushmore of planes.  If you produce a lot of small boxes and furniture like RalphB over at The Accidental Woodworker it would be a perfect fit.  The fact is I do not make much frame-and-panel work so this little beauty mostly sits on the shelf, patiently awaiting those few projects where it is an integral asset.  If you do build a lot of frame-and-panel work, especially small to medium sized, this could easily be one of your two or three most important tools.  I know that if I migrate in that direction, it will be for me too.
All that said, I do own two of these plow planes, one for the shelf in the shop and the other in my traveling tool kit; it breaks down to a very small package that fits into a #1 mailing envelope.  You just never know when a frame-and-panel project will strike.
Up next – not a bird, not a plane, but for me a supertool!