I've always liked the idea of having "branded" t-shirts for the barn, and even went to far as to work with my marketing specialist daughter to create the branding itself.  I found that the two orthodox options, ordering them from a regular printing company (required a minimum order of 25 shirts to get the unit price down to reasonable) or a one-off on-line producer (unit prices of $25-30) were unappealing.  Iron-on transfers were also problematic as most of the shirts I wanted were very dark color, and inkjet printers do not do "white"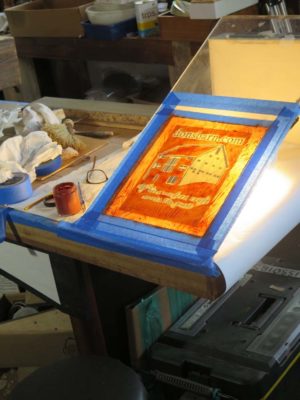 Instead I watched a youtube video and painted my own silk screen and made a couple to see if I liked the idea.  I made a wooden screen frame, printed out the design at full size and then using screen masking medium I traced the pattern with the aid of a light box from back in the days of antiquity when we viewed things called "slides."  It was a delicate balace, diluting the masking medium enough to paint ultra-fine details but not so dilute as to wick across the screen fabric.
I worked on the screen for a few minutes at a time over several weeks, then printed some out some practice tries on an old rag with the mayonnaise-consistency ink and a silk screen squeegee.  The results were okay, but I've still got to learn the "feel" of the process.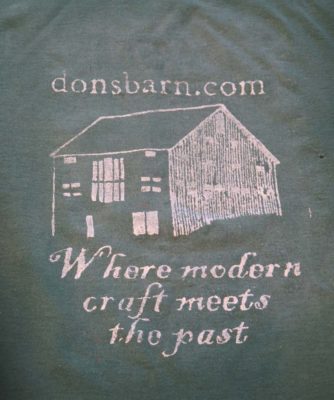 I may try again, simplifying the design details to make it bolder.