Last weekend was the maelstrom before the cyclone that is Groopstock, a periodic gathering of members from the Professional Refinisher's Group.  This was the third time we have hosted them at the Barn.  For a month I had been readying the homestead, and now was the time to get as much done as possible.
Saturday and Sunday were frantic efforts to finish getting the place clean(er), an endeavor that was not entirely successful.  Yes, I got the mountain of planer shavings relocated, and yes I got the meeting spaces more orderly, but I had no time to get my own work space in order and it remained untouched for the week.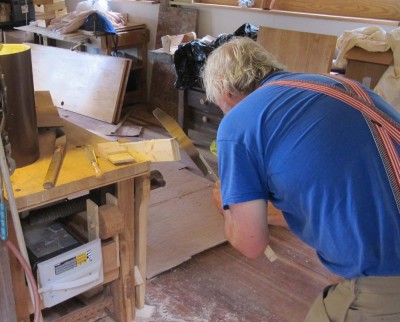 The big accomplishment for the weekend was to build a pair of nine-foot-tall screen doors for the main entrance to the barn, with 1/4″ hardware cloth on the outside and standard window screen on the inside.  Thanks to my friend David Blanchard's mortiser it was a snap.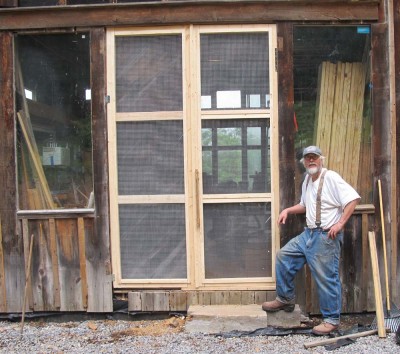 My long time friend and colleague Bruce Hamilton helped get the solid doors moved to the inside of the jamb and swinging in, while the screen doors went where the solid doors were.  I have wanted to do this for six years, and now they are done!  It provided for excellent ventilation while keeping out the birds I had been shooing out on an hourly basis.
As folks arrived I had little tasks for them, helping with the cleaning and some final floor work and railings for the fourth floor meeting room.
By dinner time they had arrived.  By the dozens.
Tomorrow, the report from Day 1.