Last Monday while en route to the Virginia Highlands, my friend Tom and I had the opportunity to visit an old colleague of mine and make the new acquaintance of a remarkable artisan, thriving in the smallish Shenandoah Valley city of Staunton, Virginia.
I first met architectural conservator Richard O. Byrne almost thirty years ago at museum conferences in Canada where he was then working and living and I was early in my career at the Smithsonian.  We corresponded for a while, but about 20 years ago the connection faded.  About a month ago I got an email from Richard — thanks in great part to Roubo.  Richard has always been an enthusiastic reader of ancient French encyclopedias and craft treatises if I recall correctly.  He indicated he was now living fairly near me in the beautiful little city of Staunton.  His invitation to visit was accepted and fulfilled the next time I passed through town.
Who knew that one of the hemisphere's most accomplished architectural preservation practitioners now lived only an hour away?  Ironically it turns out he was the project leader for the restoration of the famed mansion house in McDowell, VA, which now serves as the headquarters for the Highland Historical Society and museum.
Richard promised to introduce me to a friend of his, whom he touted as a first-class woodworker.  It was perhaps one of the few times I have known Richard to engage in understatement.
Walter Wittmann was immersed fully in the artistic and technical aspects of woodworking designs as an artisan and student in his native Switzerland, a context that immediately resonated with me.  You see, my oldest and dearest mentors, Fred and Pop Schindler, were Swiss, Pop an immigrant to the USA in the 1920s.  My admiration, appreciation, and affection for them was such that To Make As Perfectly As Possible is dedicated to them.
I intended to spend a few minutes with Richard, a few minutes with his friend Walter, then be on my way to the Highlands.  Instead the captivating experience consumed almost the entire afternoon.
Here is Tom admiring Walter's almost-completed handtool cabinet.
It turns out that Walter is much more than "a woodworker," he is a consummately skilled artisan in a wide range of enterprises.  A product of the peerless European tradition of the skilled crafts, he is part machinist, part joiner, part furniture designer, part inventor, part musical instrument craftsman (bass viols and cellos), and furniture maker par excellence.  He has a cavernous work space carved out inside a rehabilitated former auto dealership, which includes a fully equipped millwork shop for large runs of architectural and related work, a brilliantly illuminated (with huge banks of windows) handwork room, and a fully equipped machinists lair.  A brief visit with him unveils the making and modifying of tools, restoring early automobiles, and much, much more.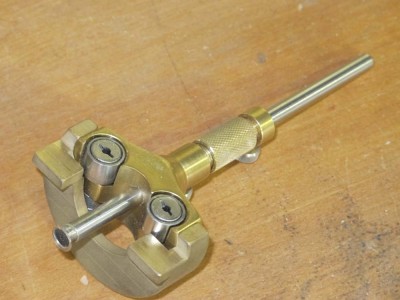 Two views of a heavily modified marking gauge for bombe surfaces.
Staunton, Virginia, an unexpected (?) place to find such excellence.  I suspect that my excuses to visit Walter will become increasingly flimsy, but the visits will become equally frequent.
Side note:  I know a lot of folks who are good at sharpening their tools.  I am myself fairly confident in my own skills there.  But I have never seen anyone who can put an edge on a tool like Walter can, as he demonstrated his techniques for doing so.  I have much to learn from him and practice, something Tom and I have already begun to implement in our own work based on the demonstration, with great results!