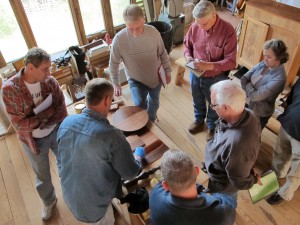 I am not sure if two events establish a tradition, but I am hoping that is the case.  For the second year in a row I set aside a weekend in May to host one of the local Chapters of the SAPFM with whom I am involved to gather at The Barn for a weekend of fellowship and woodfinishing.
The first weekend of May 2013 The Barn hosted a "Finisher's Retreat Weekend" for the Chesapeake Chapter of the Society of American Period Furniture Makers. I co-taught the event with old friend DaveR from Knoxville. The premise for the weekend was for each participant to bring a completed furniture making project and we would finish it together. Together Dave and I led them through the Six Steps for Perfect Finishing, beginning with preparing the surface of the workpiece and wrapping up with a glorious artifact portrait of their piece on top of Franklin Floor.
Since the task for each participant was to arrive with a recently constructed piece awaiting the final, transformative finishing processes, the range of projects was broad and the quality of workmanship exceedingly impressive.  Between my ministrations on surface prepping, wax finishing and brushing shellac, and Dave's instructions  and demonstrations with spirit varnish pad polishing and traditional asphalt coloration, and the continuous cross pollination, great progress was made on each project.
I look forward to May 16-18, 2014, where we can perhaps cement the new tradition for SAPFM members to come finish the pieces they built over the winter.