My original strategy for sculpting a lovely kitchen accessory for Mrs. Barn's Christmas was to gently work both the inside and outside of the workpiece until something beautiful and functional could be obtained.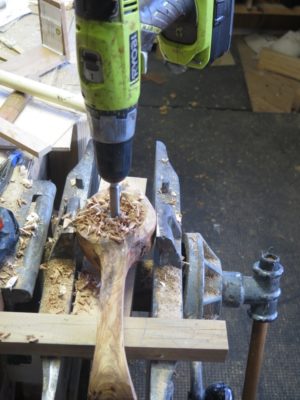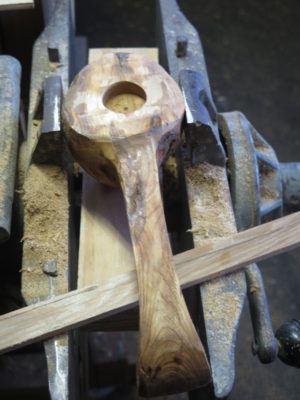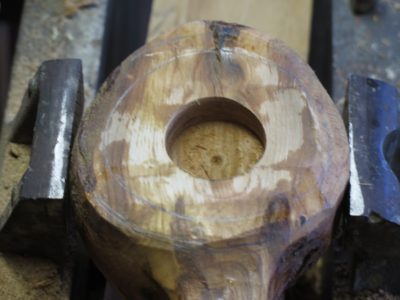 As I mentioned earlier I knew right away that cheating via drilled excavation was the way to proceed with the inside of the bowl.  The nature of the piece's morphology would constrain me to slow and gentle work, no wailing away on this one.  Still my plan was to carve and excavate, drill a little, then carve and excavate some more until it was finished.  3-4 mornings max, no problem.
Sure.
As I got deeper into the bowl of the spoon/ladle I encountered my worst "working burl" nightmare.  The cherry burl was crumbly, as burls sometimes are, and caution and a turtle-like pace was called for.  But even caution and a slow pace was not adequate for this piece of wood.  It needed enhancement.
So, my routine for the next several dozen hours of working on the carving, spread over a dozen weeks, was to soak the entire bowl end of the workpiece with epoxy, allowing it three days to set fully, then carving until I hit crumbles again.
I did not use straight, full strength epoxy — that would have been a catastrophic failure on so many fronts — but rather my old faithful West System, diluted roughly by 1/3 with acetone to allow for greatest penetration when I slathered it on until the surface was fully wet.  Even so the effective saturation was only so deep.
With this protocol, slowly but surely the piece began to take shape.  My dream of getting this done by Halloween and moving on to other things was not dead but it did require some creative scheduling.  I did this for  little time, then I did that, then the other thing.  Actually if fit rather nicely into my ADHD.