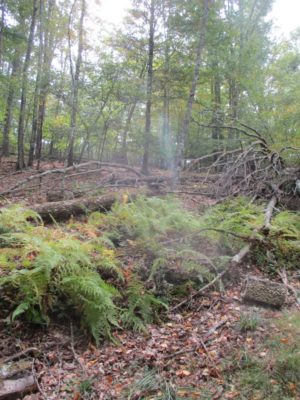 Years ago when my sister's family was visiting and we were giving the kids a walking tour of the property, one of my nephew's exclaimed, "Uncle Don, it's just like you live in a state park!"  As you can probably deduce from some of the firewood-harvesting pics, the topography for much of the property is, shall we say with literary license, exuberant.   One moment of inattention or one spot of poor footing can put you on the ground in a twinkle of the eye.  Given my poor vision with almost zero binocular depth perception and my history of injury I am becoming increasingly attentive to keeping upright in the place I want to be moving or standing still.
Traipsing around up and down and across the hills requires good footing and for all of these years I have relied on an old pair of lumberjack-ish boots.  For standing, these are the most comfortable footwear I have ever worn, but as my excursions into the forest have become more purposeful, they were wanting.  For starters, as the knobby soles became worn they were less able to grab the ground as needed, but even worse is the fact that they weigh about 8 lbs apiece making the traversing of rough terrain all the more problematic.  Hiking around iffy ground with a brick lashed to each leg is not optimal.
Since firewood-harvesting became integral to my routine here I started looking into spiked-sole lumberjack boots (the term for this type of boot or shoe is "calked;" I have no idea of this etymology) as a response to slippery footing.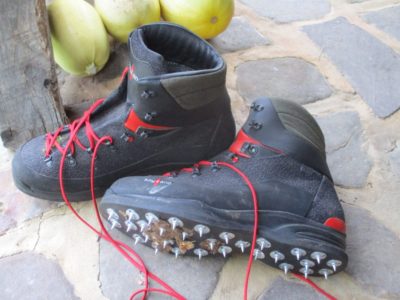 After much browning of the interwebz I found this pair of "calked" boots built on a hiking boot platform, thus reducing their weight by around 50%.  They are comfortable, lightweight, and grab the ground like they were, uh, spiked to the ground.  They have transformed my time in the woods or when bush hogging the hillsides, or even just mowing the yard (although I must be attentive to where the water hoses are so as to avoid stepping on them).  In these arenas, they are perhaps my most important tools.