When building a Roubo Plate 11 workbench nothing is more important than getting the complex joinery of the leg top protruding through the slab bench top.  I'm not 100% certain, but it might be the only important thing.  As such, the layout and execution of the double tenon and mortise joint consumes more time and energy than all the other parts of the bench fabrication combined.
Not too surprisingly the hours of initiating this process brought about the most intense interactions between the "enthusiasts" and the students.  At the beginning, Chris briefed the assembled throng on the assembly of the legs and stretchers, then inverted onto the underside of the bench top slab to provide for precise layout of the joinery for which there is no room for error.
Once again Francis charged in with only hand tools.
The following hours featured innumerable moments illustrating the intense concentration of the makers imposing the joinery on the slabs.
Once the dovetail mortises were done the energies turned to the inner rectangular mortises, where accurate drilling for waste removal was paramount.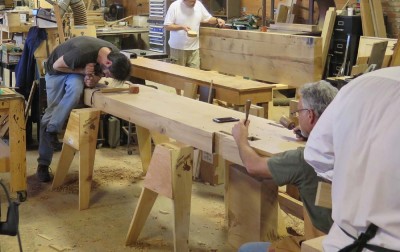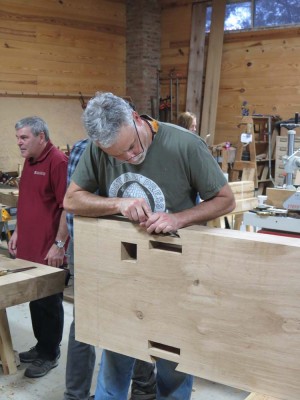 Once the holes were drilled and the waste removed, the most serious hand-work of the week was underway.
Being the most experienced maker in the crowd, it came as no surprise that Chris got done first.