A fortnight ago I was en route to Barnesville, Georgia, to participate in the French Oak Roubo Project 2015.  My contribution was somewhat unknown given my limitations regarding heavy lifting and moving, especially in regard to the fact that we would be fabricating and assembling classical workbenches weighing in somewhere in the 400-500 pound neighborhood.  Still I was determined to contribute as best I could.
Driving through the Atlanta morass seems to be no different regardless of the time and circumstances of the effort.  On this trip I was heading through at mid-day on Sunday, concurrent with a cold front moving through the area.  Add water, stir, and traffic chaos results.
On my arrival at Wyatt Childs, Inc, I noted immediately (and was silently thankful that I was not a party to the activities) that the sawmill was hard at work in the driving rain, and the advance team of Jameel, Raney, John, Ted, and Chris who had joined Bo's crew in prepping the gargantuan oak timbers was shivering.  I was delighted to greet them and get inside ASAP.
There I saw the behemoth bench that Jameel's posse built for Bo during the 2013 iteration of the event.  This bench has been used hard in the intervening years, often by four craftsmen at the same time, and seems to be holding up exceedingly well.
And a new friend was there to greet me.  The cat was omnipresent for most of the week following.  I'm a cat guy (dogs are just too darned happy and friendly) but I find myself cat-free for the first time in approximately 55 years.
As Sunday unfolded the stack of sawn timbers kept growing until it included the rough stock for seventeen benches.  While that task was wrapping up the rest of the participants began trickling in.  For most of them the reaction to the location, the facility, and the materials was wide-eyed astonishment.
An afternoon-concluding highlight was firing up the grill as Chris and Narayan prepared supper for the crowd.  Chris brought a cooler full of hand made Cincinnati brats and we worked mightily to make them disappear.
After the meal Jameel made a few opening remarks then turned the stage over to Chris who presented his current state of research on the lineage of the Roubo bench.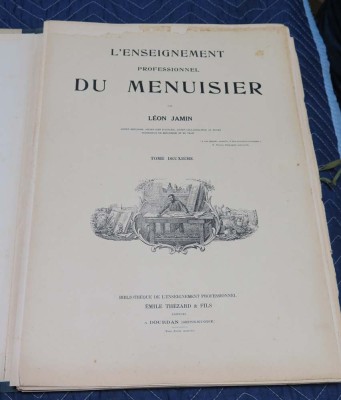 Afterward the fellowship continued as the participants acquainted themselves, I amused myself by perusing Bo's French furnituremaking manuscripts including an eerily familiar technical drawing.  Then it was off to bed for the first of several days of exhausting and exhilarating work.