I  thought I had been told to arrive at 9 the first morning, so I did, only to find out that the first students arrived before 7AM to stake out their work stations and set up, so the bee hive was buzzing long before I got there.
As I came to learn throughout the week the students body was an amazing mix of folks; a chemical engineering professor, a video production entrepreneur, a lawyer/lobbyist, three professional woodworkers/furniture makers, a cybersecurity geek, a geophysicist, a playwright, a CPA, a custom floor maker and his furniture design student son, a fireman, a mechanic, an energy engineer, an electrician, a high-end custom home builder, a rancher, two surgeons, a military helicopter pilot, and maybe another couple of folks I cannot remember at the moment.  There was no shortage of interesting things to talk about during meals and breaks.
Frankly put, the gallery of student set-ups was a dizzying cornucopia of horses and tool inventories, with the former ranging from old-school carpenter's horses to sooper high tech devices the likes of which I had never seen.
Take a look.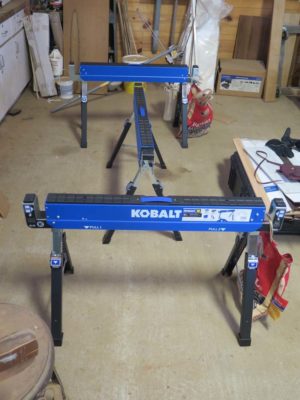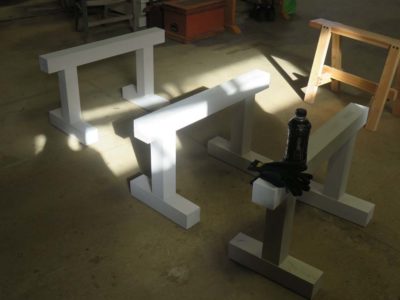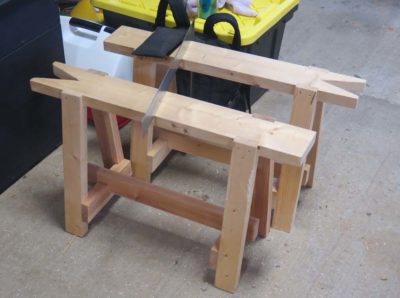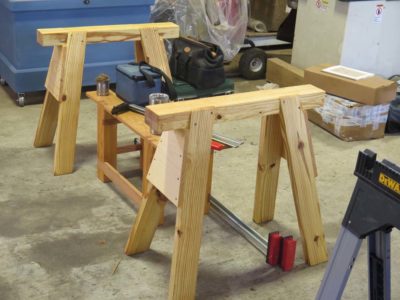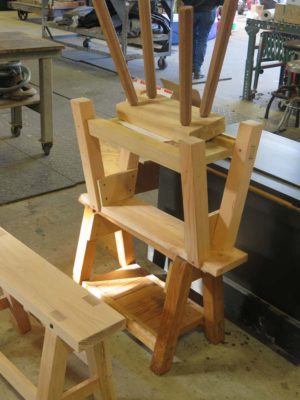 As for tool inventories and their containers they ranged from several ATCs and Dutch cabinets to plastic tubs to simple canvas bags.  I'll take a look at them in another post.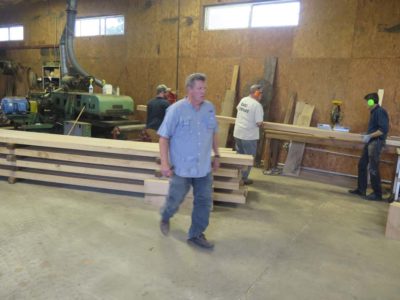 As I arrived the last of the bench tops were being fed through the Stratoplaner, the prehistoric minivan-sized machine that planed all four surface of the 300-pound slabs simultaneously.  One by one these took their places in the appropriate work stations.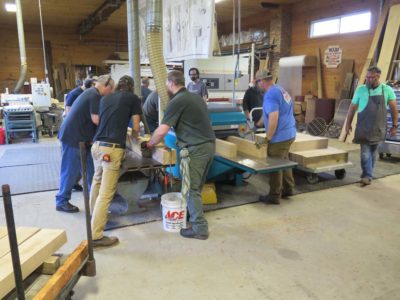 In short order the preparations for the 80 legs commenced.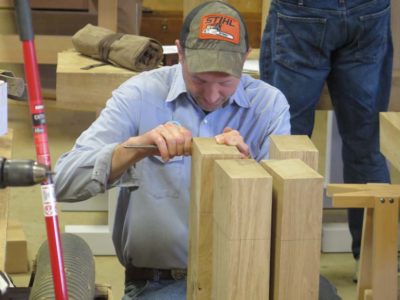 A quick tutorial on laying out the double tenons on the tops of the legs (and keeping track of them!) was followed by the soundlessness of eighty sets of tenons being laid out.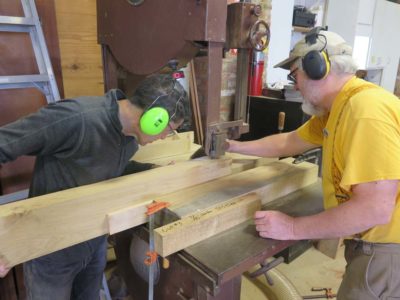 While that was underway Will Myers and Father John Abraham prepped the stretcher stock, and once again Jeff Miller and I tag-teamed to make jigs for cutting the tenon shoulders.  Which we did.  A lot.
As the day closed the air was filled with the sounds of wailing away on the valleys between the double tenons and the scriiitch of planing the edges of the tops square and true so the double mortise layout could be executed.
And that was Day 1.