Tuesday morning saw me working with Jeff Miller in the lower shop building because the Tannewitz band saw there was better suited for finishing up the tenon cheeks and the dovetailed shoulders on the front tenons.  Though there are no pictures of us doing that I did get a pretty neat pic of Bo's crew distressing some sweet oak box beams for a custom interior someplace.
Jeff had an appointment elsewhere for a few hours so I was working with Jameel to get all the tenon cuts finished, and we did.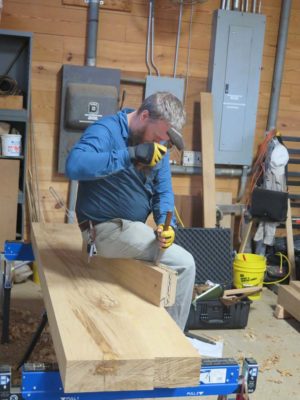 I got back up to the main work room just before lunch and there was a flurry of activity and the bench parts began to come together.  Lots of tenon valley cleaning out,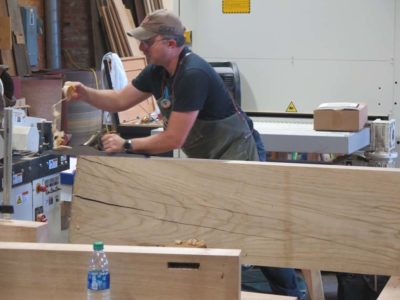 edges being trued to make sure the layouts of the mortises were correct, (the long curls were ankle deep that afternoon),
the dovetail cheeks were cross-cut and trued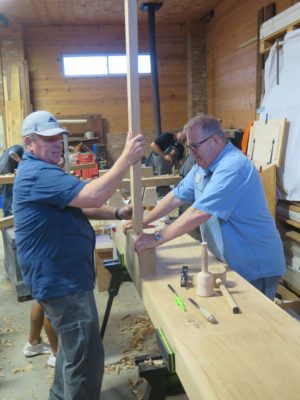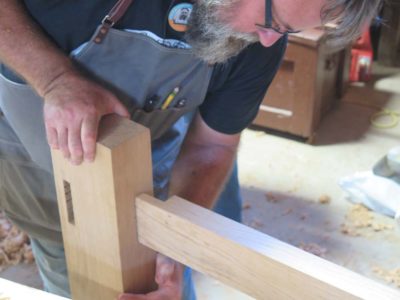 and a whole lotta stretcher mortises were matched with their mortises.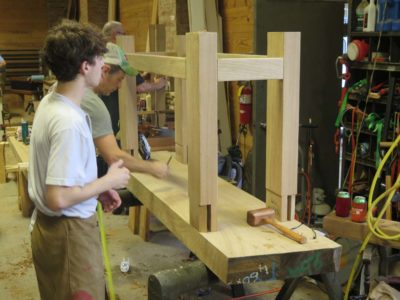 Before long there was a collection of upside-down bench bases on display.
Around mid-afternoon The Schwarz gave a demo on laying out the base to the top and marking and cutting the mortises into the latter.
So that's what was happening all over the place for the rest of the day.
The day was capped by another walk through the yard full of antiquities, with Chris being captivated by this sculpted sandstone bank faced detail of a bee hive.