I reached the 40-hour mark of the Gragg Chair Challenge with the construction phase of the chair more than 99% completed.  The only construction yet to address is the fabrication of the glue blocks at either end of the arms.  These will take another 90 minutes or so as they are tightly fitted into the irregular curved shapes to fit the spaces where the top of the arm fits against the serpentine back-seat-leg element at the top, and underneath where the arm swoops around and is attached to the serpentine element at the seat rail.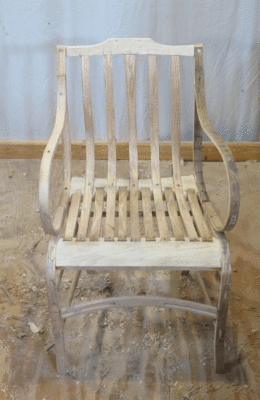 So, I am going to call this experiment a success.  Indeed there were steps I could have been a little more fussy about (read: slower) but there is the unmistakable structure in place.
This is not to say that the chair is a finished work of art, no where close.  There are still the 10-15 hours of sculpting and shaping all the elements into their final elegant form.  And the 10-15 hours of laying down the paint foundation for the decorative scheme that is one of Gragg's hallmarks.  After that comes the days of decorating, I would estimate the peacock feather and pinstriping will take about four days.  Taking all that into consideration it is fair to say that the finished chair is a little more than 1/3 done.  Nevertheless I was heartened to get to this particular finish line with "victory" in sight.
With that, I will confirm and announce a "Construct a Gragg Chair" workshop for late August of 2021.  By then the heat of summer should be in the rearview mirror (there are no 80-degree days in the forecast even now, with the warmest day upcoming being today's 78 degrees), so this six-day class should be one of cool mornings and warm afternoons.  I can accommodate four students and together we  will work alongside each other, each of us constructing a chair.
Now I just have to figure out how to get four workbenches up into the attic workshop.
And put together the tool list.
And combine all the time lapse segments into one whole video to post on youtube.
And figure out how to even post videos on youtube.
And, and, and…