Next Monday will be the first day of the inaugural "Build A Gragg Chair" workshop at the barn.   I've been aiming for this week for the past decade.   For a couple weeks I have been preparing the space up on the fourth floor, the space normally used as my video studio.  It was the only place in the barn with enough open space for four workbenches, assembly tables, and the steam box.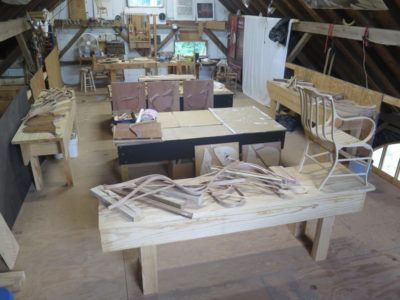 In addition to getting everything tidied up I built three additional assembly jigs and steam bent a few of the parts I forgot to do when my pal JohnH was here earlier getting all the parts bent for student use.  That's the only way we could get chairs built in six days, having all the individual steam-bent parts ready in advance.
It's gonna be a gas.
I'm praying for cooler weather as last week was the hottest here in fifteen years; it was near 100 in the barn attic.  It has since cooled down to normal and I hope it remains so, high 70s in the day and mid-50s at night.