The events that are Groopshop are filled with levity and camaraderie, perhaps unlike any I have been party to (admittedly I might not be the best judge of this as I was the guy at high school pool parties who was sitting in the corner reading the encyclopedia).  On the second night of Groophop we  usually have a delightful evening of fun in the guise of "Refinishing Jeopardy" followed by "Mike's Mostly Honest Auction," when we raise money for the operation of the organization through selling and buying each others' shop surplus supplies.
During the former event I was the off-screen judge for the answers, perhaps risking a conflict of interest as one of the categories was titled "Decoding Don."
Apparently they think I am in love with arcane words and esoteric technical terms, and this was the chance for the contestants to try and figure some of that out.  I may have been a little strict with Freddy Roman during the judging, but I sent him a box of shellac flour as an apology.
Following "Refinisher's Jeopardy" the auction commenced, and the bidding was spirited and the lots were enticing.  I bought some sheets of veneer, loose abrasive powders, and some more stuff I cannot recall at the moment.  One of the most vigorous episodes was for some lumber AlL brought.  I bought a lovely pair of matched Spanish Cedar boards, but was outbid for a spectacular piece of Swietenia mahoganii by JohnC.  It was a real beauty.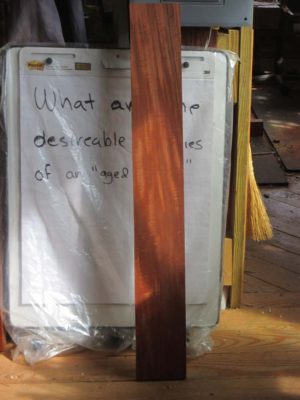 But the real heartwarming surprise came the next day as I was in CVSW setting up for my workshops the following day, and found the John had left me the board as a gift.  I was truly moved by the gesture, and since no good deed goes unpunished I am considering appropriate packages to send him in return.  The board was perfect for turning into sawn veneer for an upcoming project.
That's the kind of group Groop is.  You should join us, but only if you want to learn, exchange information in a friendly environment, and have fun.