The program for this year's Groopshop of the Professional Refinisher's Group was an embarrassment of riches, with wide ranging presentations and demonstrations that were edifying to all in attendance.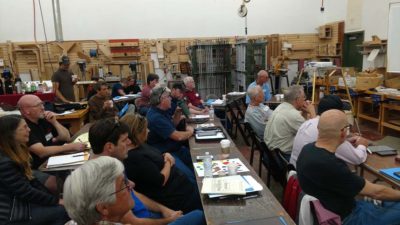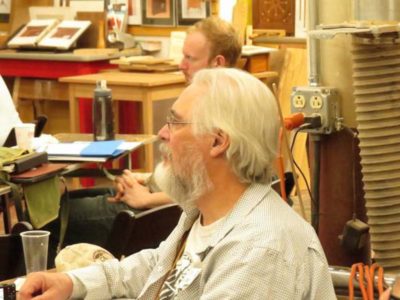 As was the usual for our events, the several dozen folks in attendance were held in rapt attention as every single session provided nuggets of knowledge for us present.
Golden Artists Colors technical guru Mike Townsend gave a reprise to his presentations at the very first Groopshop almost two decades ago with two spectacular demos on color theory and airbrush techniques.  I am a bit of a color theory maven myself and found Mike's presentation of the idea and practice of color decoding and matching to be superb.  He has a real sense of how to connect to an audience of varying experience, and his own background as an artist really comes to light when he is discussing appearance.  He provided blank panels to everyone and we followed right along as he showed how color interact with each other.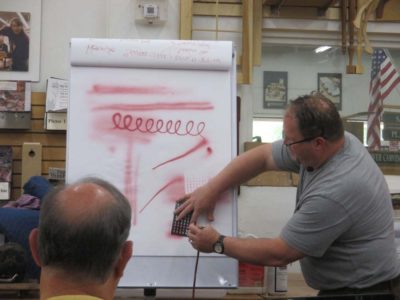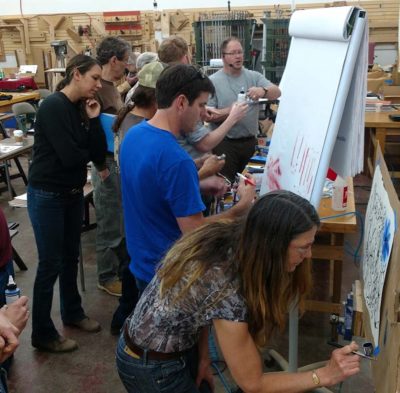 His no-nonsense demo of airbrushing was a huge hit, and as is often the case with Groopshop demos the audience was soon crowded around him trying all the things he was showing us.  One of the highlights of the session was his use of an almost century-old mini air compressor to drive his airbrushes.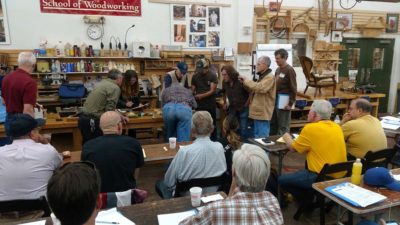 John Coffey also had two sessions, sharing the lessons of several decades' worth of successful experience.  His first session was an excellent discourse on dealing with curvalinear and heavily carved surfaces, and his second was a demo of gilded borders on leather tops.  To say the least the interest was high for both of them, and he found himself in the center of a mosh pit.
Len Reinhardt was attending his first Groopshop and absolutely stunned us with a recently completed project of conserving a pair of giant valances from a famed historic mansion in Nashville.  It  really was a first-class project and presentation.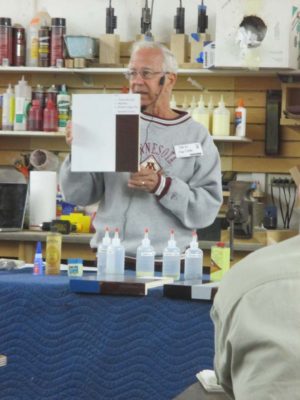 Dan Carlson regaled us with the mostly-unsuccessful fad of repainting countertops in situ, along with many other home remedies for damaged furniture.  Given that many in our cohort will be called on to deal with these failures it was timely instruction.
Mike Mascelli and Tom DelVecchio somehow snuck in some discussion of caring for and preserving aged upholstery.    Tom is the inventor of The DelVe Square that is made by Woodpeckers, and one of my very favorite tools.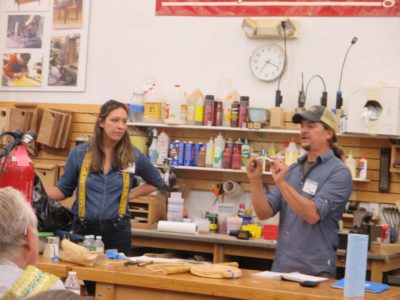 John Szalay and Christine Grove were given an open mike for the after-dinner session on the first day, and as usual had our jaws hanging open with the inventive amazingness of their projects, ranging from furniture restoration to restoring vintage soda machines to casting metal parts for vintage motorcycles to rebuilding vintage woodworking machines.  Jon is better known to the outside world as "Jersey Jon" from the American Pickers" television show.  Christine has a passion for old-time machines, and of course high fashion.
Al Lopez recounted the progression of his shop from small furniture restoration outfit to a large project, mostly architectural restoration enterprise.  I was so busy listening to his talk that I forgot to take pictures.  Sorry Al.
Other presenters who I also failed to photograph were Mark Faulkner and Val Lennon from Besway/Benco, briefing us on new regulations about solvents and chemical safety and disposal.  (I took advantage of their proximity to pick their brains about my upcoming dive into the production of Mel's Wax.)  Freddy Roman evangelized us by cataloging the role of social media in his business plan.  His talk was simultaneously awesome and terrifying to a sixty-something minarchist like me.  I gave two shorter talks, one on our recent adventures in ripple moldings, and one on the technology of emulsions and the design of Mel's Wax.  I distributed free samples of the latter with the extracted promise that everyone who took a sample was required to give me constructive feedback, which has begun to flow in.
Even with all of this I m sure I forgot to mention some of the learning opportunities there, and for that I apologize.
And the fun was not over yet.