The second day of GroopShop was just as engaging and instructive as the first, and one again I was paying so much attention to the speakers that my photo record was not as good as it should have been.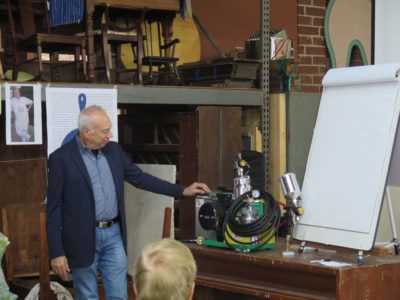 The opening session was a demo by one of the reps from Apollo Spray Systems, the HVLP units used widely in our circles.  The blow-by-blow of the history of product development was fascinating to me.
My friends Mark and Valeri from Besway/Benco, manufacturers of chemicals and products for the finishing room, provided a chilling account of the regulatory war against our trade.  Do Gooders are relentless, that is why they win unless they are opposed in a smash-mouth fashion by someone with the means to do so.  Since sanctimonious moral certitude is the regulator's fuel, I do not expect us to prevail for the most part.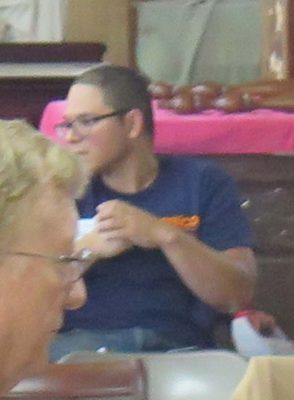 Freddy Roman gave an impassioned and enlightening talk about using social media for marketing his business.  In that realm he really is the Energizer bunny.  Were I less curmudgeonly I might go this route.
I gave my 120-minute spiel on "Decoding Hide Glue," covering everything from manufacture to modification to application.  We got almost all of it recorded and it will soon  be posted, or at least as soon as I can knit it all together.
Bill Ryan is an on-site-work warrior doing mostly architectural punch-list work in new construction, and he brought his complete traveling workshop with him to show its contents and applications.  Very inspiring.  I am still kicking myself for not taking a picture of his traveling kit.
Tom Delvecchio presented his recent fascination and exploration of 3D printing and its applications to his work in the restoration shop.  I've long been considering this technology, and since there is a manufacturer her in this county I will delve more deeply.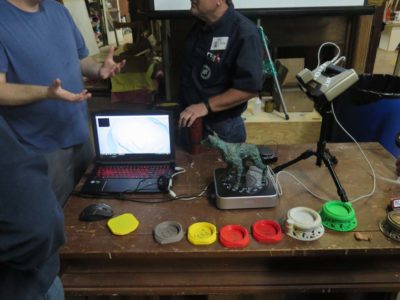 The after-dinner talk was one of the most intriguing I've seen as a young fellow demonstrated 3D imaging and its link to robotic 3D manufacturing.  The implication for replicating metal furniture parts especially was astounding.  We used to work on 3D imaging at SI and the progress made in this area is staggering.
The final presenter for the gathering was the next morning with the rep from Mohawk covering his line of products, and how that offering has changed over time.  Like many practitioners of the furniture restoration arts Mohawk is what I cut my teeth on; I attended a Touch-Up workshop back in 1974 and still have drawers full of the materials I got then, using them as needed to this day.
And thus endeth GroopShop 2018.  As always I came away inspired and informed.  If you have any interest in the finishing and restoration arts, you should belong to the Professional Refinishers Group.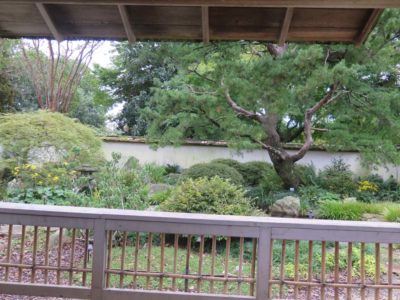 Mrs. Barn and I spent the afternoon at the Atlanta Botanical Garden.  It was delightful.  Then we drove home.  Less delightful.