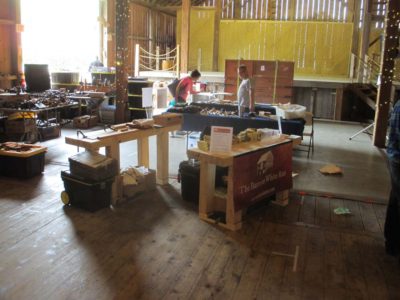 Thursday was the time or setting up at Handworks, and we were one of the first arrivals at the site.  That let me get set up and explore the five venues for this bestest toolapalooza ever.
Slowly but surely the exhibitors began rolling in, beginning with my immediate neighbors Jeff Hamilton, maker of marking gauges whose spot was in between me and Lie-Nielson, and planemaker Gary Blum.
Directly adjacent to me across he aisle on one side were plane maker Matt Bickford and the Tools for Working Woods folks.
Across the other aisle was the temptation provided by vintage tool maven Patrick Leach.  Much to my own astonishment I managed to avoid the siren song from this booth the entire weekend (admittedly at this point in life my tool needs are modest.)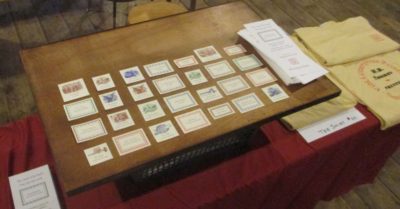 Directly further up the Festhalle center row was printer and designer Wesley Tanner, the award winning collaborator for both Roubo books and the Studley book.
Along the barn side with Matt Bickford was a booth shared by Konrad Sauer and Raney Nelson, and immediately past them was Lost Art Press/Crucible Tools.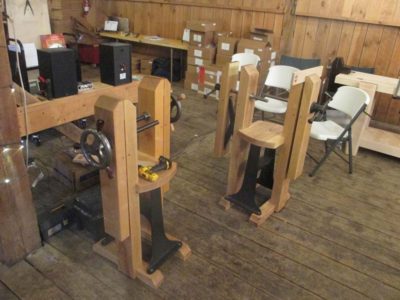 Then came our hosts, Benchcrafted vises and such.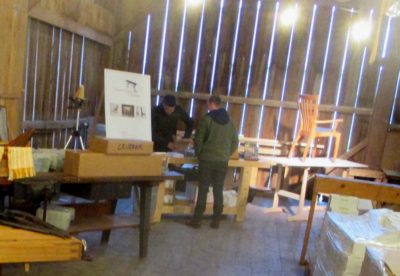 Up in the far corner was designer and furniture maker Jeff Miller, who unfortunately occupied the coldest space in the building.  I know, because it is where I was four years ago.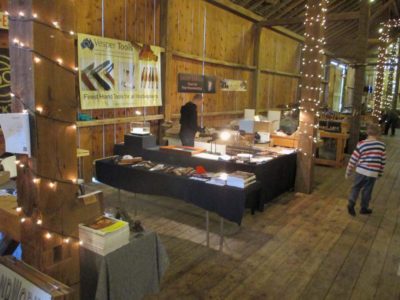 Working down the other outside wall we have Hock blades and precision maven Chris Vesper from Australia, followed by Blue Spruce Tools and David Barron.
The other end of the center row from me included plane maker Ron Brese, tuning up a tool for the masses tomorrow, jig maestro Tico Vogt, and Czeck Edge Tools.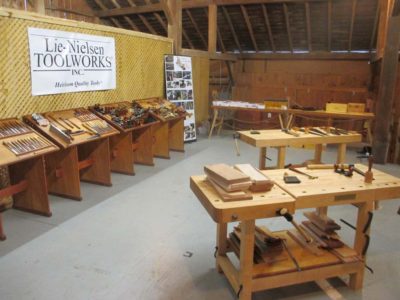 At either end of the hall were the large footprints of Lee Valley Tools and Lie-Nielson Tools.  These anchors to the tool-mall guaranteed a spectacular experience for the hordes on Friday and Saturday.
By the end of the day we were all set up, ready for the onslaught in the morning.