As with its previous iterations, Handworks 2017 was a remarkable event and experience, and there is no way to adequately express my admiration and gratitude to Jameel and Father John Abraham for keeping the flame of hand craftsmanship alive.  I know that my particular little corner of the event was crowded almost all of the time, and several of the visitors extended very warm thanks and remembrances for the Studley Tool Cabinet exhibit in 2015.  Often this was accompanied by exclamations about the magnificence of Jim Moon's recreation of it, and I was pleased to have played some small part in it being at Handworks.
As I said earlier, there was great interest in traditional finishing and I must have demonstrate wax and polissoir technique roughly 100-150 times.  It was heartening to hear the reactions as folks saw and felt the results.
One surprising thing to me was the decided lack of interest in my Roubo First Edition prints from L'art du Menuisier.  I would have thought this was the perfect audience for them, but I was no more correct in that presupposition than I was when I predicted John  Glenn would be President.  I sold only three of the prints during Handworks, and two more outside of the event.  Oh well, they will not go bad in their archival sleeves.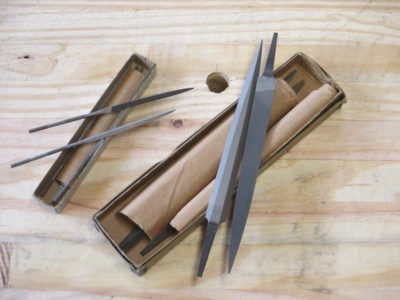 I did manage to come home with a few things myself.  First was a stash of barrette files Slav Jelisejevich had among his intoxicating selection of new old stock files.  I have no idea what sort of old file underground he is part of but I cannot cross his path without leaving a goodly pile of money behind.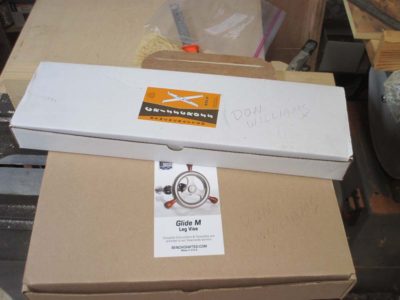 Next was a criss-cross leg vise from our hosts at Benchcrafted.  I have not yet decided on which bench to install it.  I'm almost afraid to, knowing that if it becomes integral to one bench it might have to be obtained for several others.
Finally is a simple box that that was a gift from Jim Moon.  Jim is currently salvaging lumber from an ancient grain mill, and the lumber for my box came from the inside surface of one of the grain chutes.  Billions of grain seeds over many decades wallowed out the early wood of this southern yellow pine, leaving an exquisite surface that Jim exploited to its fullest.  It is now part of my treasure trove, and the only thing I have left to do is decide whether to make it an artwork on display or a traveling box full of polissoirs and wax.
And that wraps up Handworks 2017.