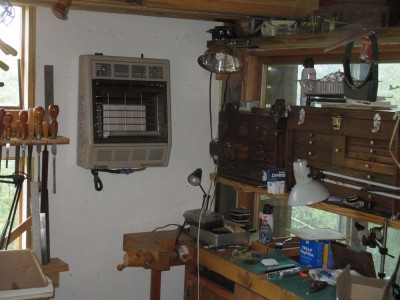 After much consideration I decided to upgrade the heating in the barn studio.  While my existing system of a premium wood/coal stove in the basement combined with a kerosene heater in the studio provided plenty of heat, two problems needed addressing.
For starters, the kerosene heater consumed about 1-1/4 gallons of kerosene for a full day's heat, at a cost (last winter) of about $5/day.  Not a killer, but not irrelevant.
Second, and more significant, was that I have never perfected the knack of keeping the wood/coal stove in the basement burning all night. Thus even though the shop space is super-insulated, every morning when I arrived in the shop, given the usual howling winds here its temperature would be close to the outside ambient temperature.  This meant that a great many mornings the shop was in the single digits, and it took a very long time for the stove and heater to get the space and its mass of contents up to an acceptable temperature.  My late afternoons were cozy and comfortable, toasty even, but the mornings were mighty brisk.
With that in mind I selected a heavy duty Empire three-panel radiant heater, fueled by propane.  It was installed last week, and on its test run made the space uncomfortably hot in short order.  The propane service fellow (actually a good friend of mine named Brad) thinks that given the volume of the space and the super insulated walls and ceiling, I should be able to make through the entire winter on a single 80-gallon fuel tank, or about $175 worth of fuel.  This works out to about $1.25 a day.  My strategy is to keep the propane heater set at about 40 degrees, just enough to keep the space warmer than freezing and much easier to heat up with the wood/coal stove in the morning.
I've also purchased a bunch of transparent shower liner curtains to close off one end of my shop, a space where I do not need immediate access most days.  Reducing the volume of air being heated by 25% should have a beneficial impact on the micro climate.
Since the heating season in the mountains will begin in about a month, I should be able to report back on the efficacy of the new arrangement soon.
Stay tuned.