[Yup, my compewder power cord arrived from South Carolina and I am back in bidnez. — DCW]
Day 2 included the continuation of previous exercises begun on Day 1 and the addition of some new ones to fill out the syllabus.
With the large panels having already been built with two innings of brushed finishing the preparation for the final application of brushed shellac was underway with the surface being scraped.  I find scraping to be a "lost art" among contemporary finishers for the most part, although it was a very common weapon in the quiver of an 18th century craftsman.  For convenience sake I/we used disposable single edged razors from the hardware store that I buy by the hundreds.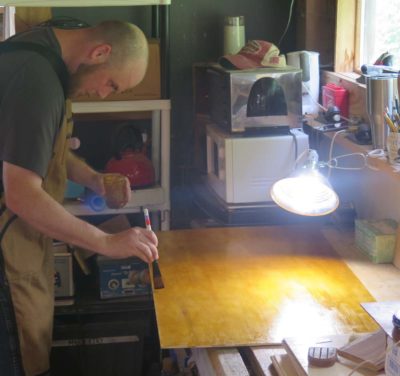 For the final application of the shellac varnish I had them switch from a 21st century nylon/sable blend watercolor brush to an oval bristle brush, much closer in style to that of 250 years ago.  This gives the students a variety of experiences for similar tasks.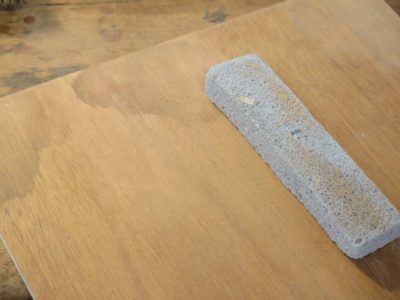 I presented a very brief demonstration of using a pumice block to prepare the raw wood, which yielded a surface that was surprisingly (to them) smooth.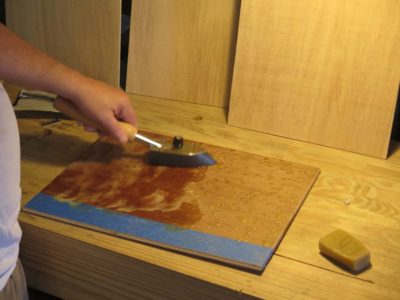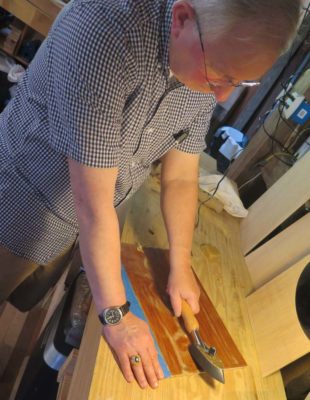 Then on to the molten wax portion of the program, wherein they prepared two sample boards for different purposes.  The first was to create a "wax only" finish which I think is the most difficult finish to do well, and secondly to fill the grain for a panel to be pad polished tomorrow on Day3.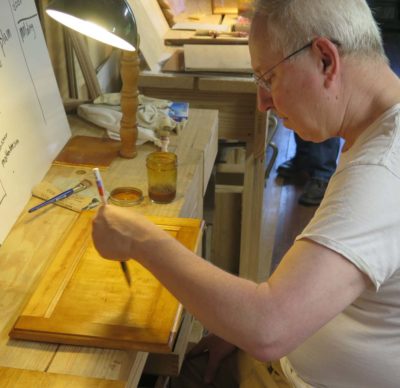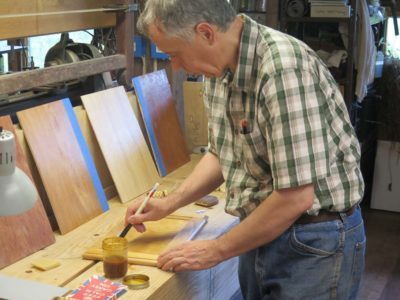 While the wax was cooling the students moved on to a pair of exercises designed to give them facility at complex surfaces.  The first was to varnish a carved and turned spindle and the second a frame-and-panel door.
While they were doing that I was playing some more with molten wax finishes.  Like I said, it is difficult to get perfect.
Late in the afternoon we saw this "meal on wheels" right outside the shop.  Clearly they are terrified of human proximity.
Thus endeth Day 2.