… or more precisely, glass paper.
Though certainly not used to the degree of our current time, when it is ubiquitous in every shop I have ever visited, sandpaper was in the furniture maker's and finisher's tool kits in days past.  There are many probable reasons for it being much scarcer in the 18th century, not the least being the cost of all paper-based products.  We know only the time when paper and all its descendants are cheap and plentiful to the point where it is simply mindlessly disposable.  250 years ago, not only was the paper essentially hand made (yes, I know the process was being industrialized even then) but so too was the associated product of "glass paper."  Abrasive paper sheets were undoubtedly also industrialized to a great degree, but thus far I have never read an authoritative period account of glass-paper making.  If you know of one please let me know.
One of the delightful rabbit trails I've been incorporating into historic finishing workshops in recent years has been to include making a sheet of glass paper by each student.   As in olden days the abrasive itself was ground glass, known as frit, and the adhesive gluing the abrasive to the paper was hot hide glue.  Using 135 gws glue to saturate 100% rag paper, then sheet was sprinkled with the fine frit (approximately equivalent to 100-grit sandpaper).  Not to self — when photographing this exercise for the book, DO NOT use white frit over white paper.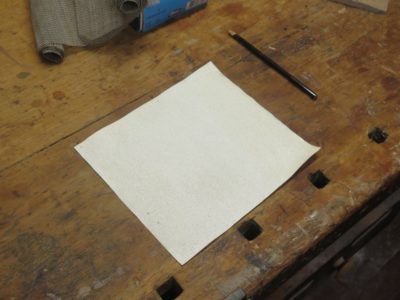 Set aside to dry for a day, the result was a usable sheet of abrasive paper.  Were I to incorporate this product into my normal shop activities I would take the additional step of "hardening" the glue with a chemical crosslinker applied to the back side of the paper.  Historically the chemical would have been formaldehyde, but nowadays I would use Heico NH5 photo gelatin solution.