I recently hosted and taught a "Historic Finishes" workshop at the barn, with five attendees from around the country and my long-time friend DaveR as a teaching collaborator.  The objectives were to help the students overcome any hesitancy about finishing by learning new habits and techniques, and the results of the exercises indicate success.
Our first exercise was the one that was most time sensitive in that it required three inning of finishing over two days, which was pushing the technology  a tad.  Fortunately the weather was cooperative.  The task at hand was to take an essentially unprepared 24″ x 48″ panel of luan from Lowes to see what could be done with it, some well-prepared shellac varnish, and  good brush.  After a brief scuff sanding with 220 they began to lay down the 1-1/2 pound shellac as I have taught multitudes before them.  The purpose is of exercise to overcome the trepidation in applying shellac spirit varnish.
Next came the grain-filling of some solid mahogany panels with molten beeswax as the foundation for pad polishing.  This was how they did it in the old days, and it is still my preferred technique.  The wax was melted in using a tacking iron (I cannot believe I did not get any more of this on camera), then scraping off the excess and buffing it out with linen.
Even at this point the results are impressive and in some circumstances the finishing would be called complete.
DaveR came on stage next to introduce pad spirit-varnish polishing, sometimes known as "French" polishing,
All eyes were glued to Dave as he walked through the process of this technique which has garnered much (undeserved?) mystical reverence.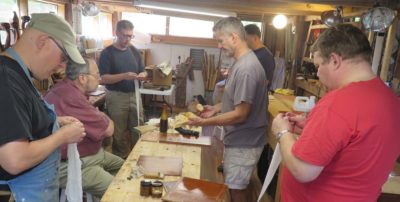 He demonstrated the process of making a good pad, or "rubber," which can last a finisher for decades, and before long they all set to making their own.
And the padding began.
And continued.
Before long we were seeing some mighty fine sheen.
It was time to introduce the newest tool in the contemporary finisher's kit, the polissoir.  Everyone got their own brand new one that needed to be tuned up on a piece of fine sandpaper
.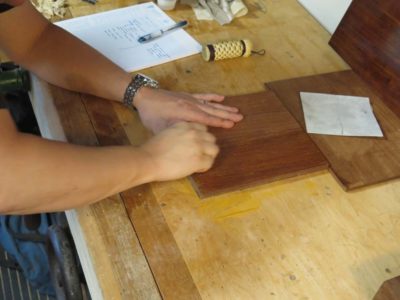 And out to work, first over bare scraped wood, then in concert with beeswax that had been scrubbed on to the surface.
Again, the final results were immediate and gratifying.
Up next, brushing carvings and other undulating surfaces.